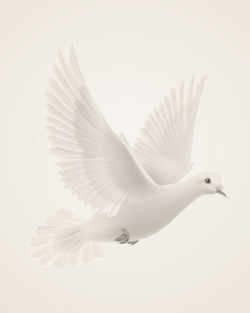 October 18, 1919 ~ October 14, 2013
Aagot Nysveen, age 93, of Hillsboro, ND died Monday, October 14, 2013, at the Hillsboro Medical Center Nursing Home.
Aagot Nathalia Isabella Nysveen was born October 18th, 1919, to Nels and Augusta (Anderson) Lerfald, rural Hatton, ND. She attended Morgan Rose grade school and Hatton High School, and was confirmed at Bethany Lutheran Church. She sang in the church choir and played piano. Aagot graduated from Mayville State Teachers College with a Standard Teacher's Certificate and taught school at Niagara, ND.
On May 15, 1942, Aagot was united in marriage to Jerome Nysveen of rural Hillsboro, ND. Jerry and Aagot celebrated their 68th wedding anniversary in the spring of 2010.
In October of 1942, Aagot joined Jerry in California and taught school near Bakersfield, CA, during WWII. In 1948 Jerry became a bulk gas agent for Mobil Oil Company, and in 1952 they purchased Jerry's Hiway Service and The Coffee Cup Café on Highway 81. In 1955, Jerry and Aagot built and managed the Sunset View Motel, and in 1972 the Hillsboro Inn near the I-29 exit. Jerry's Hiway Service closed in 1972 when I-29 was completed. They retired from the motels in 1977, and after 28 years, from Mobil Oil. They continued farming the Nysveen family farm in Norway Township and the Waslien family farm in Wold Township.
Aagot was a lifelong member of Norway Lutheran Church, served in several positions on the church council, was Sunday School superintendent for 25 years, enjoyed Ladies' Aid and WELCA, and was a leader of the Little Women 4-H Club. She enjoyed working as a member of the Traill County Historical Society, and together they donated the land for the Traill County Historical Society Pioneer Farm Museum. In 2003, Aagot was awarded the North Dakota Excellence in Local History Award which honors individuals who have dedicated their time, talent and efforts to local and regional history. A plaque bearing her name hangs in the State Historical Society in Bismarck.
Aagot is survived by her son Robert (Gloria) of Fargo, and daughter, Linda (Ken) Johnson of Sheridan, Wyoming, five grandchildren and ten great-grandchildren; and sisters-in-law Pat Woods and Lorna Nysveen, and brother-in-law Duane (Shirley) Nysveen and many nieces and nephews. She is preceded in death by her husband Jerome Nysveen, parents Nels and Augusta Lerfald, brothers Alvin and Reuben Lerfald, her sisters-in-law Oleen and Edith Lerfald, and brothers-in-law Myron Nysveen and Bob Woods.
In lieu of flowers, memorials are preferred to the Sanford Medical Center Long Term Care, Traill Country Historical Society, or to a charity of your choice.
Memories Timeline
Sign the Guestbook, Light a Candle