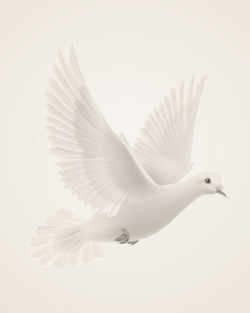 April 11, 1917 ~ October 12, 2011
Agnes Hartvikson, age 94, of Fargo, passed away Wednesday, October 12, 2011 at Sanford Health Palliative Care, surrounded by her loving family.
Agnes B. Aarestad was born April 11, 1917, in Juanita, ND, to Torkel and Serina (Tengesdal) Aarestad. She grew up in that area and graduated from school in McHenry, ND. Aggie continued her education in Grand Forks, ND, graduating as a registered nurse from St. Michael's School of Nursing. After a courtship of a few months, and a story worthy of any fairy tale, she married Gordon Hartvikson on November 29, 1943, in Little Rock, AR. In 1946, Aggie and Gordon made their home on a farm near Jamestown, ND. In addition to working on the family farm and raising their four children, Aggie worked at Jamestown Hospital as a pediatric nurse. Following a year in Perham, MN, they moved together for the last time, making their home in North Fargo in 1974. While there, Aggie worked for Eventide Lutheran Home (Moorhead, MN) for ten years, retiring at the age of 70. In February of 1997, Aggie lost her loving husband of 54 years in a car accident. After that, she was fortunate for the good health to live alone at Park Avenue Apartments in Fargo.
Her love for God was unwavering and was the foundation of her life. All of her immediate family and many close family and friends loved and appreciated her God-fearing example.
Aggie was the hub of all important family news and activities. Family was precious to Aggie and she loved to spend time visiting and reminiscing. Children and grandchildren alike would call her for the past and current events of the family, which she would share with remarkable accuracy and recollection.
Over the final days of Aggie's battle, the continual update to family and friends was that she had rallied yet again. To all standing by it was a symbolic reminder of her life of constancy and endurance. She was an example in life of how to live, laugh, and die to self, and ultimately how to die with dignity and peace.
Aggie is survived by her children, Ron (Nancy) Hartvikson of Thompson, ND; Linda "Lyn" (Jim) Sorenson of De Queen, AR; Roberta "Byrd" (Lyle) Overby of Jamestown, ND; and Ann (Rick) Overby of West Fargo, ND; 14 grandchildren; 15 great grandchildren; her brother, Wilfred (Thelma) Aarestad of Jamestown; her sister in law, Maxine Aarestad of Spring Valley, MN; and brother in law, Orval Sorenson of Alvord, IA. A special recognition of the "only daughter that turned out", Elissa Erickson.
Aggie was preceded in death by her parents; her husband, Gordon; her brothers, Erv, Stan, and Sam; her sisters, Essie Boelter Tiemens and Mertis Sorenson; and grandson, Brent Sorenson.
If you ever visited dear Grandma Aggie,
You saw an odd little sign when you entered her home.
'Velkommen til vart hjem' it says
Norwegian for 'Welcome to our home'.
This sign was quite fitting for dear Grandma Aggie,
For any who came were welcomed inside.
Her home and her heart were warm and bright,
Restful and safe for one's soul to abide.
No one sought to know you as much as dear Aggie
She had such a keen interest in each one she met.
She'd grill you about your history, your people, your doings
Your testimony, your life, and she'd never forget.
This endeared many people to dear Grandma Aggie
She holds a big place in many a heart
Her interest was pure, not nosey or catty,
And the love of our Father it did impart.
For one thing was sure about dear Grandma Aggie
Her chief interest was in the Kingdom above
And through her great interest in souls of others,
In her we saw proof of the God of love.
So 'tusen takk', many thanks, dear Grandma Aggie,
what you left is worth more than gold in sum
For we can trust that our Father and Saviour have met you
with a warm 'Velkommen til vart hjem'.
H.R.
Memories Timeline
Sign the Guestbook, Light a Candle