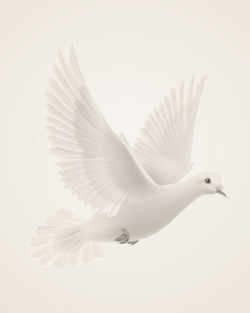 August 16, 1923 ~ July 19, 2010
Alvin (Al) William Clementich, 86, died Monday, July 19, 2010 surrounded by family and the caring people at ManorCare.
Al was born August 16, 1923 in Minot, North Dakota, the son of George and Grace (Cross) Clementich. Al, oldest of six children, attended Minot High School and worked with his father at the Velva coal mines. In 1941 he entered the Civilian Conservation Corp in Montana. He served in the U.S. Army from 1943-November 1945 and was stationed in Italy during WWII. After his honorable discharge, he met Elenor (Frenchy) Hamilton, daughter of Bernard and Alice Hamilton of Minot. Al and Frenchy were married in Spokane, Washington where Al was employed by the steel mills. Later they moved back to Minot, North Dakota where daughters Lynda and Sharon were born. Al was employed by Motor Services in Minot. Elenor passed away in 1955. Al married DiAnn Wawers on June 26, 1964, in Minot, North Dakota. After Michael was born, the family moved to Moorhead, Minnesota, then to Hawley, Minnesota.
Al was employed by Sturdevants Auto Parts in Hawley for many years. While in Hawley, he was a member and council member of St. Andrews Church, commander of the VFW, assisted with the Hawley Boxing Club, volunteered at the Hawley Rodeo and was the assistant cook at the Senior Citizen Center. Al retired in 1986 and in 2001 he and DiAnn moved to Fargo, North Dakota where they enjoyed a variety of activities. Al loved good food, candy, traveling, knitting, woodcarving, cooking, softball, boxing, the YMCA, swimming, photography, fishing and hats.
Al is survived by his loving family: wife DiAnn (Wawers) Clementich, daughter Lynda Lofflin , Denver, CO, daughter Sharon (Brad) Marsten, Moorhead, MN; son Michael (Holly) Clementich, Willmar, MN; grandchildren and spouses Laurie and Rob Ferron, Marion, MT, Beki and Scott Wilson, Denver, CO, Jeff and Kathy Register, San Diego, CA, Nikki and Jim Weaver, Fargo, ND, twins Elijah and Elliana Clementich, Willmar, MN; great-grandchildren Tyler, Tess, and Jacob Ebele, Denver, CO; brother Hallie (Marla) Clementich, Devils Lake, ND
Al is preceded in death by his parents George and Grace Clementich; first wife Elenor (Hamilton) Clementich; children Mary, George and John; grandchild Andrew Register; son-in-law Michael Lofflin; siblings Kenneth, Alice Sebo, Norma Greenwood, George Jr. (Dutch); brothers-in-law Eugene O'Hearn, Lyle Miller; sister-in-law Evangeline Wawers.
Al was thankful for his "second" family, Ed Wawers, Leander and Edith Wawers, Ione O'Hearn, Ben and Marilyn Wawers, Eve and Franklin Miller, Marlys Miller, Paul and Joanie Wawers and all his nieces and nephews.
The family wishes to acknowledge and thank the wonderful people at ManorCare, Hospice of the Red River Valley, Home Instead, and the VA for the loving care Al received.
Memorial gifts may be given to American Diabetes Association or Hospice of the Red River Valley.
Memories Timeline
Sign the Guestbook, Light a Candle