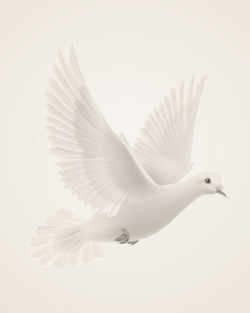 December 18, 1918 ~ May 12, 2010
Alvin Tollefsrud, age 91, of Fargo ND died peacefully on May 12, 2010 surrounded by his family and loved ones.
Alvin was born in Twin Valley MN on December 18, 1918 and moved when he was a child to Mayville ND where he lived most of his life. He attended Mayville public school, graduated from Mayville State University and from the Wisconsin Graduate School of Banking in Madison WI. He joined the National Guard in 1940 and was activated to service in February 1941. As a member of the 164th Infantry Regiment of the Americal Division, he was in the first US Army unit to take offensive action against the Japanese during the battle of Guadalcanal in 1941. He was involved in many major south Pacific battles during World War II before coming home in 1946.
On his discharge, he began employment at the Goose River Bank in Mayville where he was for 30 years and as an insurance agent for Northwest Mutual Life for over 25 years prior to his retirement. He was active in the VFW, American Legion, 164th Infantry Assoc. and the Guadalcanal Veterans Assoc. He served his church on various committees, church council and teaching Sunday school. He also supported Junior Legion baseball and the Boy Scouts. He was very close to his 1940 MSU football teammates and his fellow WWII veterans of the 164th L Company and enjoyed their many gatherings over the years. As an amateur radio operator, he enjoyed talking to his fellow 'hams' on the net and making friends over the world.
Alvin was preceded in death by his wife Marion of 61 years, his two brothers Clarence and Gilmore and his sister Alma. He is survived by his daughter Mary and David Craveiro of Warren RI, son Neil and Deborah Tollefsrud of Shakopee MN, and daughter Jane and Dana Hunt of Owatonna MN. He has 7 grandchildren and five great grandchildren.
Arrangements are made through the Boulger Funeral Home. There will be a viewing on Sunday from 5:00 to 7:00 with a Prayer Service at 7:00 p.m at Boulger Funeral Home, 123 10th St. South in Fargo. Funeral services will be at Hope Lutheran Church North 2900 N. Broadway in Fargo on Monday at 11:00am. Burial will be at Mayville cemetery at 2:00 p.m. on Monday.
Living a great and full life, he is grateful for his many close friends and their fellowship. He has appreciated all the help, support and love shared and received, especially during these last months. Instead of flowers, Alvin has requested that you go to church, help a neighbor, serve your community, thank a veteran for their service and your freedom.
This is KAǾEDB going off the air. Out.
Memories Timeline
Sign the Guestbook, Light a Candle