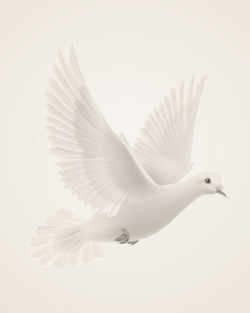 February 19, 1929 ~ July 17, 2012
Dr. Aurel Carcoana, of Fargo, 83, formerly of Romania, died peacefully surrounded by family members, Tuesday, July 17, 2012 at Elim Care Center in Fargo.
Dr. Aurel Carcoana was born February 19, 1929, in Bucharest, Romania. His parents were Nicolae Carcoana and Paraschiva (Apostol) Carcoana. He was a member of the Evangelical Christian Church, attended "Titu Maiorescu" Lyceum in Bucharest and graduated in 1947. He played volleyball and became a member of the Romanian National Juniors Volleyball Team. He attended the Petroleum, Gas and Geological Science Institute in Bucharest. While in college, his health suffered a tremendous shock when after complications from pneumonia he lost use of his right lung. Despite the setback, he found strength in God and managed to improve his physical condition against all odds following a self-imposed physical exercise routine. After earning a degree in engineering in 1955 he worked as an intern engineer on several oil fields throughout the country. In 1958 he started working at the Research Institute for Petroleum and Natural Gas in Campina, Romania. While there he continued his graduate studies and in 1969 he earned a Doctorate Degree in Engineering from the Petroleum, Gas and Geological Science Institute in Bucharest. In Campina he met and married Verona Enescu, a Petroleum Engineer, on April 25, 1959. They continued to live in Campina, where they also worked together at the Research Institute for Petroleum and Natural Gas.
He was a Petroleum Engineer specializing in oil recovery methods. In 1972 he was awarded a certificate of invention for authoring "Oil Extraction Method Using Subterranean Combustion". In 1978 he was awarded a second certificate of invention for co-authoring "Recovery Procedure for Oil in Depleted Reservoirs". He travelled to France, Russia, former Yugoslavia, former USSR, Egypt, Libya, Canada and the United States as a key member of the research team studying recovery methods of the world's oil reserves. In 1968, while in the US for a short period of time he fell in love with America and the American way of life. In 1979 he was the recipient of a UN sponsored research engineering exchange program and spent a few more months in the US. He became a member of the SPE (Society of Petroleum Engineers). He then returned again in 1982 to present a paper at the SPE symposium in Tulsa, OK titled "Enhanced Oil Recovery Methods in Romania". In the same year he co-authored a book in Romania by the same title.
In the following years, as the political situation in Romania started to decline, Ceausescu's communist regime started to restrict civil liberties and the profession of faith, dragging the Romanian society in what was referred at the time ironically as the "Golden Age"- a dark, Orwellian period when all the country's resources were re-directed to build a personality cult to the ruling family. He decided to escape to America. In 1985 he came to visit his mother, sister and brother who left the country a few years earlier and got established in North Dakota in the Fargo area. A few months later, after his tourist visa expired he was granted political asylum in the United States, thus opening the door to his wife and three young adult children to follow him through the family reunification process.
It took four long years to finally get his wife and children in Fargo, North Dakota. Ironically, two weeks after his family arrival on December 4, 1989, the communist regime in Romania fell. He never once reconsidered his decision to stay in America because he fully embraced the traditional American values and way of life. He worked constantly to instill the American dream in his children and grandchildren. During these four years, while the paperwork and red-tape associated with legal immigration worked their way through the system he was offered a job as an Engineering Professor at North Dakota State University. He also became a member of Meadow Ridge Bible Chapel in Fargo where he found wonderful friends, brothers and sisters unto Christ. He received the American citizenship in 1992, fully realizing his dream that started back in 1968. He was instrumental in the development of the Petroleum Engineering Department within the College of Engineering and Architecture at NDSU and eventually chaired this department. He wrote a college textbook: "Applied Enhanced Oil Recovery" that was published by Prentice Hall in 1991. He worked at NDSU until his retirement in 1995. After retirement he enjoyed reading, traveling with his wife and their children's families and watching his grandchildren grow.
He is survived by one son: Lawrence (Larry) Carcoana; two daughters: Olivia Verona Carcoana and Claudia Carcoana-Jalil; his wife Verona; six grandchildren: Sebastian Carcoana, Sara Isabel Jalil, Alisson Dumitriu-Carcoana, Alexander Leonard Dumitriu-Carcoana, Sophia Nora Jalil, and Victor Carcoana; his brother: Radu Carcoana; - all of Fargo, ND; his sisters: Lidia Tudor of Fargo, ND, Lucia Nedelcu of Dallas, TX and Rodica Maianu of Willmar, MN; numerous nephews, nieces, grand-nephews and grand-nieces.
Preceding him in death were his parents; his sisters: Dorina Popescu and Neli Dragan and one niece, Despina Dickinson.
Memories Timeline
Guestbook
Sign the Guestbook, Light a Candle