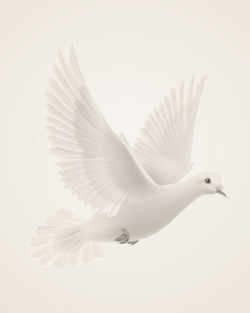 June 8, 1919 ~ February 24, 2011
Bernadine Kathryn Richtman, 91, Fargo, formerly of Bismarck, ND and originally from Ashley, ND passed away on February 24, 2011 at Bethany Homes in Fargo, ND.
Bernadine Brosz, daughter of Gustav and Ann-Marie Lippert Brosz, was born June 8, 1919 on her parents farm near Ashley, ND.
When she was a young girl her parents moved the family to Ashley, ND for the children's education. Bernadine graduated from Ashley High School in 1937.
In 1940 she married Homer Boss of Bismarck, ND and moved to Los Angeles, CA where Homer worked for the Douglas Aircraft Company. Her only child, Jean Marie was born in Los Angles, CA. Homer served in the US army in Europe and was captured by the Germans. After his return to the states, he worked as an x-ray technician and died of a heart attack in 1952.
Bernadine and her daughter returned to Bismarck, ND where Bernadine worked as an administrative assistant in the State of North Dakota Agriculture Department. After her marriage to Russell K. Richtman in 1962, she moved to Fargo, ND where Russell managed his business, Richtman Printing. Bernadine continued her state service at NDSU. She retired when her second husband, Russell Richtman passed away in 1990. During her retirement, Bernadine volunteered as a travelers aide ambassador at Hector International Airport. She was a member of United First Methodist Church, bison teammaker and was a constant fixture at the recitals, concerts and plays at Reineke festival concert hall.
Bernadine is survived by a brother, Ronald Brosz (Georgia) of Rapid City, SD and a grandson, Grant Mudge of Richmond, VA. Bernadine is also survived by several nieces and nephews. She was preceded in death by her daughter, Jean Marie Mudge, her parents, her first husband, Homer Boss, her second husband, Russell Richtman, her brothers: Clifford, Raymond, Herbert and William, her sisters: Lillian(Brosz), Mary Ann(Wishek) and Phyllis(Grove).
Memorials may be made to NDSU music department or Hospice of the Red River Valley.
Memories Timeline
Guestbook
Sign the Guestbook, Light a Candle