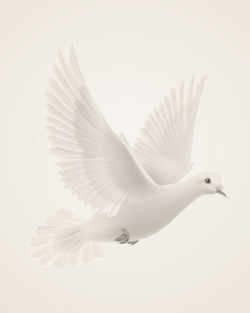 November 14, 1932 ~ December 30, 2012
Bernice LeDoux, of Fargo ND, died Sunday December 30th, at Sanford's Palliative Care Unit in Fargo at the age of 80. She passed away as she lived, gently and gracefully, surrounded by her loving family and assisted to the end by the caring staff at Palliative Care.
She was born Bernice Catherine Vosen on November 14th, 1932 to her parents Hubert and Johanna Vosen, in Pierz, MN. She grew up with her four brothers and her sister in Little Falls, MN, which is also where she was educated. Later on, she was employed at the Little Falls bakery. It was during this time that she met and began dating her future husband, Murile (Duke) LeDoux, who had just returned from military service in Europe. Soon after their marriage in 1953, Duke was offered, and he accepted, a job with the Fargo Fire Dept. It is in Fargo where they would take root and raise a family of 6 children together.
Her gifts as a wife and mother were numerous, not the least of which were her comfort food skills. Pheasant dinner will never be the same without her, not to mention her many pasta salads, baked beans and potato salad to name a few. Try as we might, we can't seem to duplicate any of her recipes. Nor can we exactly duplicate her endless capacity to listen without interrupting, to advise without judging. The LeDoux home on 8th Ave North always seemed to have a head count of more than just Bernice's 6 kids, because "Mrs. LeDoux" made sure the kids in the neighborhood knew they were welcome.
Sometime after raising her family, Bernice went to work as Site Director at the Fargo High Rise Senior Center. The residents of the high rise soon became her extended family and she treated them as such for over 30 years, not retiring until March of this year. Though she cared for them all, she was particularly dedicated to the downtrodden, less fortunate and those with special needs, whether those needs were temporary or permanent. On more than one occasion, Bernice excused herself from family gatherings to "head down to the high rise" because somebody needed her help. Whether it was helping an elderly resident with her eye drops or giving someone a ride to the pharmacy, or just lending an ear to someone with a problem, she truly lived her life serving others. Her gift from God and her gift to others was her boundless compassion.
When she wasn't tending to her "families" Bernice especially enjoyed her summer weekends at Lake 7, near Vergas, MN. She loved to read and relax, and especially loved watching her grandchildren enjoy all the pleasures of that wonderful, peaceful place.
Through it all, Bernice lived and loved, as someone once said, "not in the big capital-letter sense, but in the every-day, little by little, task by task, gesture by gesture, word by word."
Bernice is survived by her loving husband of nearly 60 years, Duke LeDoux, as well as her children and their spouses, Mike (Mikki) LeDoux. Bill (Kathy) LeDoux, Jim (Val) LeDoux, Dan (Chrissie) LeDoux, Jeff (Becky) LeDoux, and Jeannie (Jamie) Lavelle, her other "son" Steve (Jane) Conlin and 17 adoring and adored grandchildren. She also leaves behind her brothers Harvey (Rita) Vosen and Juni Vosen, sister Jeanne (Terry) Luff, and sisters-in law Margaret Vosen, Sue Vosen and numerous nieces and nephews.
She was preceded in death by her parents, her brothers Bobby Vosen and Frank Vosen, sisters-in-law Lorraine Vosen, Addie Vosen and Barb Sather, nephew Patrick Vosen, and niece Laura Linnerud.
The LeDoux family would like to give thanks to the many caring individuals at Rosewood on Broadway. We are especially grateful to Sanford Health, particularly it's Palliative Care Unit for the extraordinary comfort they provided Bernice and her family in her final days.
Memories Timeline
Guestbook
Sign the Guestbook, Light a Candle