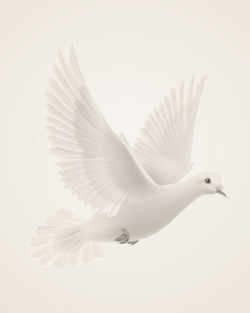 August 7, 1909 ~ December 16, 2013
Bessie Charlotte Overn Clarens Murray, 104, of West Fargo, ND passed away on Dec 16th, 2013 at Villa Maria in Fargo, ND.
Bessie was born August 7, 1909, to Charles Arnolf and Christine Olivia (Olsen) Overn near Cochrane, Ontario, Canada. When she was a small child, Charles brought Bessie to live with his sister, Mrs. Asora Halvorson on a farm outside of Leal, ND. Bessie was a survivor of the 1918 Flu epidemic. Her favorite memory of growing up on the farm was of her horse, Prince. Bessie went to grade school in rural Leal, ND and later to high school in Valley City, ND.
Bessie married Frank Clarens at Sanborn, ND on November 5, 1929. They had one son, Richard, and moved from depot to depot (Sanborn, Embden, Kathryn, etc.). They lived in the depot that was moved to Bonanzaville Pioneer Village in West Fargo. Frank died in February of 1955.
In 1956, Bessie went to Interstate Business College in Fargo. She was a part-time clerk at the Alice Post Office and active in the insurance business. It was through insurance that she met Ervin Murray. They married on October 11, 1958, and moved to Casselton ND. Bessie enjoyed being welcomed into the family that included adult children James (Audrey), Justin (Jan), and Joan Murray. Ervin died in 1964 and Bessie never remarried.
Bessie worked hard and believed in saving for a "rainy day". She had great friends with whom she had some wonderful adventures. She went to California and was a cook for a summer camp, she was the House Mother for the Alpha Gamma Delta Sorority at NDSU, and spent many years taking care of the rectory for Msgr. A.R. Peschel at St. Leo's Parish in Casselton, ND. Bessie was active with many groups in Casselton, including the Senior Citizens and a quilting group. She did many types of crafts and handiwork. Her knitted baby sweaters and booties are especially treasured by her family. Bessie enjoyed baking and provided her signature krumkake and ginger"bread" cookies to family and friends. She loved spending time at the family cabin on Round Lake that she and Frank started together.
Bessie moved to an apartment at the West Fargo Cooperative Living Center in 1998 at the age of 89 where she remained, living independently, until shortly before her death. She enjoyed being part of the West Fargo Coop Community and was thankful for the many friends she had there.
Bessie is survived by her son: Richard Clarens, Fargo ND; stepsons James and Audrey (Peckskamp) Murray, Pueblo CO and Justin and Jan Murray, Rochester, MN; stepdaughter Joan Murray, Rochester, MN. Clarens grandchildren: Rick (Ruth) Clarens; Mary Lee Clarens, Diann (Lee) Hoedl all of Fargo ND; Great grandchildren: Christine (Eric) Uggerud, Fergus Falls MN; Rachel (Jim) Farnsworth, Lino Lakes MN, Johanna Clarens, Seattle WA, Andrea Clarens, Laura Clarens, Leo Hoedl, Emily Hoedl, Hannah Hoedl, and Nicholas Hoedl all of Fargo, ND. Great great grandchildren: Alina, Nathaniel, Naomi, and Clara Farnsworth and Josiah, Lydia, Anna, and Baby #4 Uggerud. Murray (James) grandchildren: Mike (Alice) Murray Bolingbrook IL; Thomas Murray Pueblo CO; William (Rebecca) Murray Broadwater NE; Fr. Steven Murray Gunnison CO; Mary Murray Pueblo CO. Great grandchildren: Matthew Murray Bolingbrook IL; David Murray Fort Wayne IN; John Murray Washington DC; Anthony Murray Monte Vista CO; Nichole Murray and Cassidee Murray both of Broadwater NE. Murray (Justin) grandchildren: Joseph (Karen) Murray Boca Raton FL; Julie Murray (Craig) Hunt Maineville OH; Joni Murray Rochester MN. Great grandchildren: Jack Murray and J'aime Murray both of Boca Raton FL; Brady Hunt and Ryan Hunt both of Maineville OH; Justin Murray Rochester MN.
She was preceded in death by her husband Frank Clarens, her husband Ervin Murray, her daughter-in-law, Leone Clarens, her parents Charlie and Christine Overn, her Aunt Halvorson, and her two brothers Knute Overn and Fred Donnelly.
Memories Timeline
Sign the Guestbook, Light a Candle