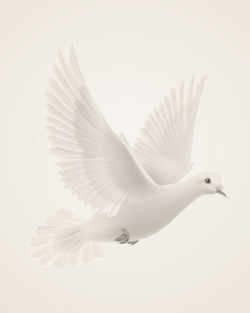 February 8, 1929 ~ October 29, 2014
Beverly Louise Sveen, 85, Hillsboro, ND, died October 29, 2014 at the Hillsboro Nursing Home in the presence of the wonderful staff who cared for her the past 5 years, and surrounded by friends and family who loved her.
Beverly was born February 8, 1929, to Joseph "Pete" and Della (Johnson) Waters of Kelso, ND. She grew up on their farm and attended rural school through elementary grades then moved into town and lived with her grandmother, Nettie Johnson, to attend Hillsboro High School. She quit school her sophomore year to work. Later, as an adult, she finished her high school education by correspondence and earned straight A's, one of her proudest accomplishments.
On November 22, 1949, she married Joseph W. Sveen, a handsome "older" Staff Sergeant and veteran of WWII. She always said she "would rather be an old man's sweetheart than a young man's slave." She was a lifetime member of the Hillsboro VFW Auxiliary and a former member of the American Legion Auxiliary.
Bev was a hard worker and gave her all in everything she did. She generously donated her time to her church and anyone who needed her help. Bev held many jobs and owned The Hillsboro Garden and Upholstery Center for 10 years.
She was an outspoken woman. She would stand up for what she believed in and would freely offer praise. She would also tell you bluntly to your face if she didn't like something.
She was very involved in her church in her younger years. She enjoyed studying the Bible and hearing God's word, a trait which held true until the day she died. Determined "to keep her mind sharp," she was currently in the process of memorizing the books of the Bible in order.
The greatest love of her life was children. She babysat and cared for her grandchildren. A highlight of her final days was being able to hold her great-great nephew, Lloyd Knecht. There was nothing she loved more than to hold and kiss a baby.
After becoming a widow on November 1, 1980, Bev enjoyed playing golf, pinochle, and driving her white Cadillac with red leather interior (fast!).
After losing her sight to macular degeneration, she started listening to books on tape provided by the ND State Library for the Blind. Their records show she borrowed 3223 books.
Beverly is survived by two daughters, Susan (Steven) Trandem, Moorhead, MN , and Bonnie Spicer (Charles Belanus) of Hillsboro; five grandchildren – Mark (Jennifer) Trandem of Moorhead, MN, Casey (Eve) Trandem of Custer, SD, Erin Trandem of Moorhead, Dylan Spicer of Hillsboro, and Lindsey Spicer of Detroit Lakes, MN; four great-grandchildren – Graysen Trandem, Siri Trandem, Trygve Brunsvold, and Torren Trandem.
She is also survived by her sister Mavis Johnson and sister-in-law Audrey Waters, both of Hillsboro; sister-in-law Joyce Strand of Moorhead, and many dear nieces, nephews, cousins, and friends, as well as the staff at the Hillsboro Nursing home, whom she considered family.
She was preceded in death by her husband, Joe; parents, Pete and Della; sister, Frances; brother, Benjamin "Buck" Waters; and five nephews - Timothy, Bradley, Jeffrey, Brent, and Bruce.
Bev's family would like to extend thanks to the staff at the Hillsboro Nursing Home who cared for her so lovingly over the past 5 years.
The family suggests memorial gifts be designated to the ND State Library for the Blind (604 E Blvd Ave, Bismarck, ND 58505), Hillsboro Nursing Home, or Our Savior's Lutheran Church of Hillsboro.
Memories Timeline
Guestbook
Sign the Guestbook, Light a Candle