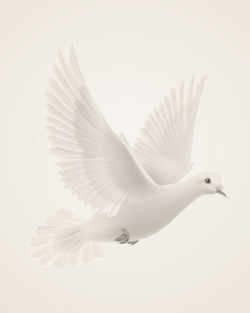 May 14, 1922 ~ March 9, 2013
Clifford Wayne Hackett, 90, of Fargo, formerly of Sarles, ND, died Saturday March 9, 2013 at home.
Wayne was born May 14, 1922 in Hannaford, ND and lived for his first three months at the Crittenden Home in Fargo. At age 3 months a nurse transported him on the train to Sarles, where he was adopted by JB and Jennie (Osborn) Hackett. He lived in Sarles most of his life, until moving in 2005 to Fargo.
Wayne went to school in Sarles and graduated from high school in 1941. He served in the Army Feb 17, 1944 through Jun 15, 1946 in the European Theater in WWII, in Germany and France. He was a charter member of the Sarles American Legion, Post 276; held various offices; and was the last remaining charter member of that Post.
Wayne was united in marriage to Dolores Olson on October 24, 1948 in Sarles. From this union came 6 children.
Wayne was a policeman for the City of Sarles in the 1950's and an auto mechanic, partner-owner of Sarles Garage for about 2 years with Ray Sweeney; then sole proprietor. In 1960 he was appointed Postmaster in Sarles, and held the position for 28 years, retiring Jan 1, 1988. He was on the city board, then was Sarles Mayor for about 20 years. He obtained his Federal Firearms license and for decades sold firearms as a side business/hobby. He was an avid hunter from the time he was strong enough to hold a gun; he and best friend Lee Holsinger hunted gophers and small game beginning when Wayne was about 8 yrs old. He loved hunting waterfowl and deer. He was hunting guide for many out-of-state hunters, and developed lifelong friendships with them. For many years he took his vacation to visit his children in KS and hunt pheasants in the fall. He had a steel grain bin building business, where all of his kids learned the ethic of honest hard work. He was on a bowling team, often attending state tournaments with his friends. Wayne was considered a generous, kind, considerate man by many who encountered him.
Wayne was a member of Sarles Lutheran Church for many years. When he and Dolores moved to Fargo, they attended Bethel E. Free Church. As he became unable to walk long distances, the pastors would visit him at home. He was blessed to get to know Pastor Gary who faithfully ministered to him.
Wayne is survived by his wife of 64 years, Dolores; six children: Sandra "Sandi" (Michael) Rogers, Stockton, KS; Kerry Hackett, Grand Forks; Richard (Carole) Hackett, Lusby, MD; Wendy (Robert) Bos, Wichita, KS; Dennis (Kathy Creighton), Stockton, KS; and Stacie (Rahn) Farder, Alvarado, MN; 16 Grandchildren, 25 great- and 6 step-great-grandchildren; many nieces and nephews, and many friends who will miss him and honor his memory.
He is preceded in death by his parents and one sister, Lillian Knutson.
The family wishes to express their gratitude to the Fargo VA, RRV Hospice, and Comfort Keepers, who all worked together to enable the family to keep Dad home the last months of his life. We thank God that with their help we were able to give him that wish to be home until he went to his new, more glorious home, safe in the arms of Jesus. Special thanks to Jerry, CNA of Hospice; and Alise, Comfort Keepers Home Health Aide, for the love and concern with which they assisted in caring for him.
Memories Timeline
Guestbook
Sign the Guestbook, Light a Candle