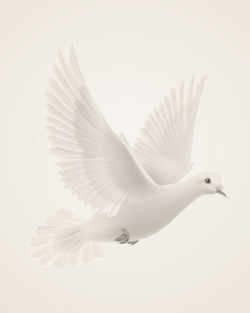 March 28, 1938 ~ April 21, 2010
Daniel L. McKay, 72 of Fargo, died Wednesday, April 21, 2010 at Innovis Health in Fargo.
Daniel was born on March 28, 1938 in Fargo to John and Vivian (Backer) McKay. He grew up in Fargo and attended St. Mary's grade school and graduated from Shanley High School in 1957. Following high school he graduated from the police academy and pursued a career in law enforcement and security. He worked as a security supervisor for Western Protection, served as police chief for the Enderlin Police Department, was a deputy for the Cass County Sheriff's Department and was Assistant Chief of Security Officers at the Holiday Inn in Fargo. Daniel also served in the North Dakota Air National Guard.
He married Sharon Lau on August 23, 1965 in Fargo. He was an avid collector and loved writing, which included the publication of one of his four books. Dan enjoyed the outdoors, especially hunting and driving his 1965 Pontiac Catalina convertible around town during the summer. Dan was a member of the National Rifle Association, American Federation of Police and the National Association of Chiefs of Police.
He was preceded in death by his parents, John and Vivian.
Daniel is survived by his daughter, Kristene (Kevin) Langer of Valley City, ND; son, Robin (Nancy) McKay of East Grand Forks, MN; daughter, Joan (Delbert) Berntson of Litchville, ND; daughter, Sandra (Mike) Miller of Lewistown, MT; grandchildren, Danielle (Denver Woods) McKay of Billings, MT, Dillon Miller of Lewistown, MT, Dustin (Kassidy) Robles of East Grand Forks, MN, Chris (Jewels) Robles of Virginia Beach, VA, Mickaella Langer of Valley City, ND, Jonathon Langer of Valley City, ND; great-grandchildren, Joseph Woods, Tobias Woods both of Billings, MT, Jordan Robles of Grand Forks, ND, Jessa and Emmy Robles both of East Grand Forks, MN, Hayle, Ricky, Christian and Brianna Robles all of Virginia Beach, VA; brother, Robert McKay of Guyton, GA; special friend, Carol Rasmusson of Moorhead, MN and many cousins, nieces and nephews.
Memories Timeline
Sign the Guestbook, Light a Candle