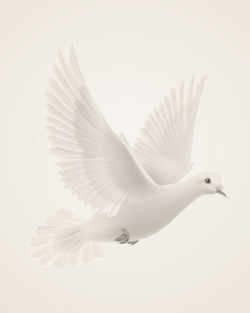 January 2, 1932 ~ December 16, 2014
Dr. Ryan B.Harrington died in the Palliative care unit of Sanford hospital on December 16, 2014. He had been ill for more than 13 years with myeloproliferative disease. On November 26, he sustained a hip fracture and was not able to recover from the additional health problems, associated with the injury.
He was born in Hancock, Michigan, on the shores of beautiful Lake Superior, on October 2, 1932 to Ryan C. and Constance (Freidrichs) Harrington. At the age of 9 the family moved to Minneapolis when his father was transferred. They moved to Fargo when Ryan was 12. He graduated from Sacred Heart Academy in 1950. He attended North Dakota Agricultural College (now NDSU). When the Korean conflict broke out, he was activated by his Naval Reserve unit. He served for two years as a Navy Corpsman, assigned to a Marine Unit.
Upon discharge he enrolled at the NDAC as pre-med student. He was accepted at UND Medical School where he received a BS in Medicine. In 1958 he transferred to the University of Kansas. He received the Doctor of Medicine degree there 1960. After graduation he interned and completed a residency in in Internal Medicine at St. Luke's in Kansas City. He was then accepted for a fellowship at the Mayo Clinic in Neurology and Neurodiagnostic medicine. In 1966 he began practice with the Neurologic Associates at the Neuropsychiatric Institute in Fargo and served as Clinical Professor the University of North Dakota School of Medicine. He spent many years teaching students and residents in medicine. He truly enjoyed this opportunity. He received certification by the Board of Neurology and the Board of Neurodiagnostic medicine. He later examined for both those boards for several years. In addition to his practice, he was involved in administrative areas, serving on hospital boards and as President of the Neurologic associates and Chair of the Neuropsychiatric Institute Board of Governors. He also served on the board of St. Luke's Hospital. He was elected to Fellowship in the American College of Physicians.
Ryan and his family were members of Nativity Catholic church. He served on the Parish Council. For several years the family were actively involved in the Christmas Eve dinner. In recent years he enjoyed delivering meals to those who are homebound for that event. He served on the board of Catholic Family Service, as well as the board of the Opportunity School.
In 1959, while working one night as a medical student in the emergency room at the KU Medical Center, he was assisted by a senior nursing student, Agnes Diller. That encounter led to their marriage on November26, 1960. They celebrated 54 years of marriage in November 2014.
Ryan enjoyed many summers at Lake Melissa near Detroit Lakes. He especially enjoyed sailing his c-scow and pulling his children and many others behind the boat for water skiing. A most enjoyable past time was walking his dogs for miles each day. In retirement he also delivered Meals on Wheels for several years. He met many new friends through this activity.
Ryan is survived by his wife, Agnes, and 3 children. Anne Johns, Detroit Lakes, MN Ryan (Lynn), Naperville, Illinois, and Mark (Miriam), Bloomington. There are four grandchildren, Ashley Johns and Kathryn, Jack and Elizabeth Harrington. He was preceded in death by his parents and a sister, Mary Johnston.
Ryan's surviving family extend sincere thanks to the staff and particularly Dr. Levitt, of Roger Maris Cancer Center, as well as the staff of 5-east of Sanford Hospital. The family will be ever grateful to the Palliative Care Unit staff of Sanford. Their outstanding care made his last days much more comfortable.
In Lieu of flowers, memorials are requested for the Presentation Sisters, Catholic Charities North Dakota and Sharehouse.
Memories Timeline
Guestbook
Sign the Guestbook, Light a Candle