Father Peter Hughes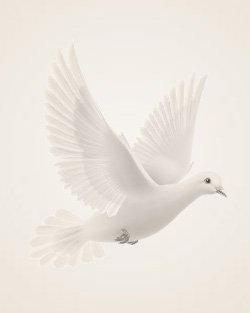 February 19, 1933 ~ July 16, 2014
Father Peter Hughes, 81, passed away in Dublin, Ireland at Kimmage Manor on Wednesday, July 16, 2014, which was the 53rd anniversary of his ordination into the priesthood.
Fr. Peter Hughes was born in Glasnevin, Dublin on February 19, 1933, to Mary Rose (née Mockler) and Peter Paul Hughes. Following secondary studies in Rockwell College, Co. Tipperary, he entered the Spiritan novitiate in Kilshane where he was professed in 1954 before moving on to the Missionary College in Kimmage Manor. Having already prefected for two years in St. Mary's College, Rathmines, he completed his Theology studies in Kimmage and was ordained to the priesthood in Dublin in July 1961.
Fr. Hughes' first appointment was to Nigeria where he served in a pastoral role from 1962 until 1967 in what became the Diocese of Enugu. He began in St. John the Baptist parish in Agbani, later serving in the parish of St. Philip & St. James in Aku and then as pastor in its former outstation Nimbo which was being raised to the status of a parish.
Going to the US in 1968, he served briefly in a pastoral role in Texas before moving to New York later the same year where he did fundraising for two years. In 1971 he began a period of more than a decade in the Diocese of Monze in Zambia serving in Kalomo and with the Irish Sisters of Charity, in Choma.
After renewal studies in Marianella in Dublin, Fr. Hughes returned to the US in 1983, to the Diocese of Fargo, North Dakota. There he served rector at St. James Basilica, Jamestown; pastor of St. John the Evangelist's Church in New Rockford; pastor of Sts. Peter and Paul's Catholic Church, McHenry; pastor of St. William's Catholic Church, Argusville; rector of the Cathedral of St. Mary, Fargo; Confessor and in-residence at Cardinal Muench Seminary, Fargo; Hospital Chaplain, Fargo and, from 2011 to 2012, in-residence at Holy Spirit Catholic Church and St. Anthony of Padua Catholic Church, Fargo.
He remained in North Dakota until 2012 when he transferred to Kimmage Manor.
Fr. Hughes' Mass of Christian burial in Ireland was on Saturday, July 19th. A memorial Mass will be celebrated at St. Mary's Cathedral, Fargo, on Thursday, July 31, 2014, at 7:00pm. Bishop John Folda will preside at this Mass, and a reception will follow at the Cathedral.
Condolence letters to his community and family in Ireland may be addressed to Fr. Marc Whelan C.S.Sp., Provincial, The Spiritan Provincialate, Temple Park, Dublin 6, Ireland or provincial@spiritan.ie.
Memorials for the Our Lady of Guadalupe Adoration chapel or mass offerings may be directed to the Cathedral in Fargo. Fr. Hughes' community would gratefully accept memorials for Marian House, the nursing home at Kimmage Manor where Fr. Hughes spent his final months.
Memories Timeline
Guestbook
---