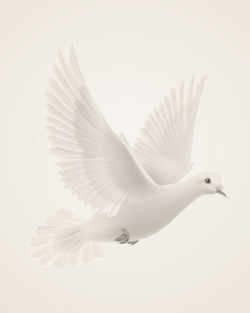 February 24, 1915 ~ February 5, 2012
Faye quietly left us on Sunday at age 96 after a recent surgery. She died at Sanford Hospital. She was born February 24, 1915 to parents Frank and Helen Hyatt. Faye attended Sacred Heart Academy and Interstate Business College. She held various jobs, all working with the public. St. Luke's Hospital as switchboard operation, years at the Elks Lodge, cashiering, and front desk clerk at the Powers and Fargoan Hotels. She was married to James Bissel September 12, 1934. For most of her life she attended noon Mass at St. Mary's Cathedral. Faith played a significant part in her existence. Faye's spiritual and artistic side lead her to write many poems, including 1st Communion and Winter.
She also enjoyed sketching faces of people. Her close ties with sisters, Marge (Marcella), Evelyn, and Eva, were very meaningful and rich. Faye's home during her senior years was the 400 on Broadway. She loved the excitement and tempo of life there with street fairs and parades and watching people scurrying about and wondering what was happening at the Fargo Theatre, all visible from her 4th floor apartment. Many close ties were made there. Her greatest joy was family. She always knew exactly what they were doing in their daily lives and took pride in each of them. Granddaughter, Lisa, was the light of her life, as was grandson, Lon, who provided much strength and support and only great-grandson, JJ, who meant so much to her. With a dear friend and companion, Al Nardbo, she enjoyed many long, leisurely road trips to Canada, Duluth, the lakes, never having a schedule or place they had to be.
Faye defiantly knew how to stop and smell the roses. With daughter Marilyn by her side, Faye had many health hurdles over the past years but miraculously regained strength and flourished. Daughter Darlene had a recent visit over Christmas and spent time with her. "Meals on Wheels" Jim, who was Floyd to her, brightened her Monday's for many years.
Our gratitude to Robbie Martin and Kathryn Pietrzak who so devoted and tirelessly provided care over the past years and more recently helped family keep vigil over her. From fresh flowers to home cooked meals, their personal touches warmed her life.
To the end, Faye maintained a style of graciousness and dignity uniquely her own. She followed God's light
through life with a calm few achieve. As she softly slipped away, the Lord's presence was felt gently guidingher home.
Faye was preceded in death by parents, sisters, and an infant son.
Survivors include: daughters Marilyn Williams, Fargo, Darlene Bissel, Vallejo, CA; grandson Lon Williams, Oakland, CA; great-granddaughter Lisa Baer, Houston, TX; great-grandson, Jeffrey "JJ" Adell, Houston; nephews,
Brian Hanson (Pretz), Randy Hanson (Deb), David Cote; nieces Carol Holmquist; and sister, Linda.
Memories Timeline
Sign the Guestbook, Light a Candle