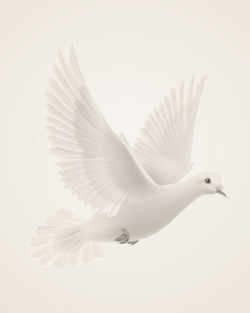 November 13, 1923 ~ June 24, 2011
Florence Margaret Wright, 87, of Fargo, ND went into God's loving arms on June 24, 2011, at Bethany Homes on University Drive, Fargo.
Florence Lusso was born November 13, 1923 to Joseph and Cecelia Lusso in Caledonia, ND where she grew up and attended the Calendonia Schools. She later met and married George Wright on January 7, 1942 at St. Rose Church in Hillsboro, ND.
They farmed in Luverne, ND. Later they moved to Dilworth, MN where they lived and raised their 6 children. In 1970 they moved to North Fargo where she worked for Fredricks Flowers for a number of years until their retirement. George passed away on December 1, 2005. She then moved to Heritage Commons in West Fargo for 5 years. Florence then moved to Bethany on 42nd for awhile, then the Bethany on University until her passing.
Besides her never ending love for her family and friends, she was best known for her crocheting. Watching those delicate little fingers turn simple thread into beautiful creations, was amazing to all! With countless doilies spread throughout her family and friends, her work will not be forgotten. Her love for baking and canning was also appreciated especially by her grandkids.
Florence had 7 children, and is survived by 4 remaining children. Lyle (Cherie) Wright, Moorhead, Glen (Connie) Wright, Ramsey MN, Larry (Becky) Wright, West Fargo, and Rebecca (Mike) Millard, Fargo, 17 grandchildren, 32 great grandchildren, and 1 great, great grandchild, 1 sister, Mary Wright, Valley City and many nieces and nephews, 2 Son-In-Laws, John Dalbol, Fargo and Gary Brown, Casper WY.
She is preceded in death by her parents, husband and 3 daughters, Glenda Wright, Kathy Brown, Casper WY and Linda Dalbol, Fargo, 2 grandchildren James & Richard Brown, Casper WY., and 1 Brother, Louis Lusso, Hillsboro.
She was an exceptional woman by surviving breast cancer, once in 1959 and again in 1971. In lieu of flowers, feel free to make donations to Hospice of the Red River Valley and/or Bethany Nursing Home.
Memories Timeline
Sign the Guestbook, Light a Candle