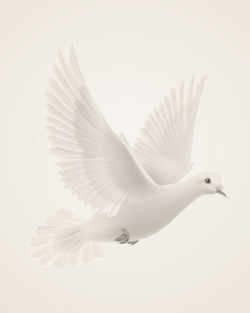 December 25, 1919 ~ May 27, 2011
Geraldine (Gerry) Hazel Sheffield Clapp was born in Huntington, TX, on Dec. 25, 1919, to James Weaver Sheffield and Hazel Foster Sheffield. She passed away Friday morning, May 27, 2011, in Fargo.
Gerry's father worked as a telegrapher for the "Cotton Belt" (St. Louis Southwestern) Railway. Gerry graduated from high school in Nevada, TX, at the top of her class. She received a B.A. and law degree from Baylor University in Waco, TX, in 1941-1942 and joined the staff of U.S. Congressman Lyndon Baines Johnson in Washington DC. During World War II, she joined the American Red Cross on her birthday in 1944 and served with the 12th Air Force in England and with the 29th Infantry Division in Bremerhaven, Germany, after the close of the war. She joined the Judge Advocate General's Office of the Third Army in Heidelberg, Germany, serving as a civilian staff attorney. She met her husband, Edwin Griffin Clapp Jr., in September 1946, and they were married on Christmas Day 1946.
After returning to the United States she obtained a master's degree and taught American History at Kansas State University in Manhattan, KS. She and her family moved to Washington DC, where she joined the office of North Dakota Senator Quentin Burdick, serving as his Legislative Assistant from 1960 to 1962. She then moved with her family to Fargo, where she practiced law in the Vogel Law Firm. In 1974, Governor Art Link appointed her to a seven year term on the North Dakota State Board of Higher Education. She served as the Board's president during the last two years of her term. It was during her tenure on the Board that the North Dakota School of Medicine was elevated from a two year to a four year, MD degree conferring program. Gerry considered her service to the Board the crowning and culminating achievement of her professional career.
Gerry traveled extensively. She and Ed lived in Germany for a total of seven years and traveled throughout Europe during that time. In later life she traveled to exotic locations around the world, including Nigeria and Timbuktu in Africa, the Amazon, the Galapagos Islands, Costa Rica, China, the Soviet Union, Thailand, India, Japan and Hong Kong. Gerry volunteered at Heirlooms (Hospice of the Red River Valley). She was always an avid reader and an expert bridge player.
She is survived by her husband of nearly 65 years, Ed Clapp; her four sons Ned (Debbie) of Fargo, Jim of San Francisco, George (Donna) of Chicago, and Ben (Denita) of Fargo; ten grandchildren: Griff (Jill), Amber (Ben), Tyler, Jim (Chantel), Allison, Ellen (Wesley), Adam, Andrew, Taylor Green and Owen; and one great-grandchild, Jude (Jim and Chantel).
Memories Timeline
Guestbook
Sign the Guestbook, Light a Candle