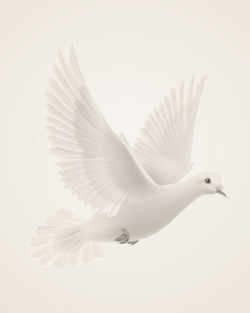 August 8, 1922 ~ October 25, 2011
Gertrude Mueller, 89, of West Fargo, ND, formerly of Wishek, ND, died on Tuesday, October 25, 2011 in Sheyenne Crossing Care Facility.
Gertrude was born August 8, 1922 in Fredonia, ND, daughter of Edward and Pauline Kleingartner. Gertie graduated from Kulm High School. She attended Interstate Business College in Fargo, ND and worked at the Logan County Court House in Napoleon, ND. She married Herbert Mueller January 7, 1945. They lived on the family farm north of Wishek where they farmed and raised their family.
Gertie was active in teaching Sunday School, singing in the choir, Women's Bible Study and a member of Morningside Homemakers. Gertie looked for the good in everyone. She valued her husband, children and grandchildren and great grandchildren, as treasured possessions and her conversations were filled with laughter and pleasant memories of people she loved. Gertie enjoyed cooking and baking and spending time with her friends, family, and her very special grandchildren.
Survivors include her sons, Richard (Cora) Mueller of Wishek, ND; Ron (Barb) Mueller of West Fargo, ND; her daughters, Cheryl (Al) Dewald of Fargo, ND; Robin (John) Phillips of Kennewick, WA; nine grandchildren and nine great grandchildren; and her sisters, Katie Haag of Kulm, ND; Marion Rossman of Fredonia, ND; and Vange Sprasoff of Denver, CO.
She was preceded in death by her parents, husband, and three brothers.
Memories Timeline
Sign the Guestbook, Light a Candle