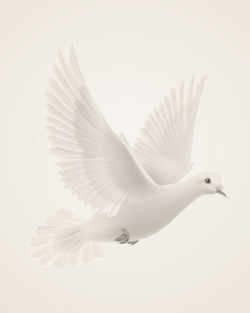 May 4, 1914 ~ February 28, 2012
Glenn Frank Ista, 97, of Villa Maria, formerly of Walcott, ND, died peacefully on February 28, 2012 at Essentia Health in Fargo surrounded by his loved ones, Verne and Becky Ulven and their dogs, Sophie and Baxter.
Glenn was born to Frank and Gertie (Johnson) Ista on May 4, 1914 at his parent's farm near Walcott, ND. Glenn attended grade school at the Ista School, a one room schoolhouse close to his family farm. He attended high school in Colfax, North Dakota and attended one year of college at Mayville State.
Glenn farmed with his father from the early age of six and initially used his beloved Percheron horses, Molly, Betsy, Peanuts, and Prince to plow the fields and pick up students to go to the Ista school. He began farming on his own in 1942, primarily wheat, barley, and oats. He was one of the first farmers in the area to use fertilizer. He was also on the Cenex Board in Kindred in the early 70's. Glenn had a strong work ethic, keen intellect, and quick wit. He retired from farming at the age of 85, but continued to help on the farm until 2006. His favorite time of the year was during corn harvest and he combined corn every year until he was 92 years old.
Glenn had a strong Christian faith and was a member of the Zion United Methodist Church in rural Walcott his entire life. He was the building treasurer at Zion for many years and most recently bought the church organ and sound system. He had a beautiful voice and sang solos for many weddings and in church. He never worked on Sunday.
Glenn loved animals of all kinds and made numerous generous donations to organizations that were meaningful to him; including building an animal shelter for the Humane Society of Richland-Wilkin County in Wahpeton, ND; contributing money to complete a horse arena for the Therapeutic Riding Program at Dakota Boys and Girls Ranch in Minot, ND; and giving a donation to the Riding on Angel's Wings organization to take care of the horses in Hendrum, MN. In his later years, Glenn loved going to the Walcott and Galchutt elevators for coffee, watching baseball and golf, getting treats from McDonalds and Dairy Queen, reading three newspapers a day, puppy sitting his favorite dogs, Cash, Cooper, Baxter, and Sophie at the Good Samaritan, feeding the squirrels, deer, and birds, and having family and friends visit him at Good Samaritan and Villa Maria.
Glenn was preceded in death by: his parents, Frank and Gertie Ista, his sisters and their spouses, Alfred and Kay Anderson, S. L. and Isabel Tuchscherer, a nephew, Robert (Marti) Tuchscherer, and a grand niece, Seli Gernhardt, a grand nephew, Barry Sollom, and his wife, Dr. Marilou Sollom.
Glenn is survived by his nieces, Karen (Ralph) Sollom, Bemidji, MN, Vicky (Gary) Gernhardt, LaPlata, MD; and nephews, James (Gerd) Tuchscherer, Lino Lakes, MN; John Tuchscherer, Alexandria, VA; Mark (Cookie) Tuchscherer, Anchorage, AK; and many grand nieces and nephews. He is also survived by his honorary family who lived on the farm with him for 38 years, Verne and Becky Ulven, Walcott, ND; honorary grandchildren, Elizabeth (Jared) Anderson, Scottsdale, AZ, Joni (Jeff) Burchett, Tigard, OR; and honorary great-grandchildren, Ellie and Roxie Anderson and Jayce Burchett.
Memories Timeline
Guestbook
Sign the Guestbook, Light a Candle