Herb "H.T." McKennett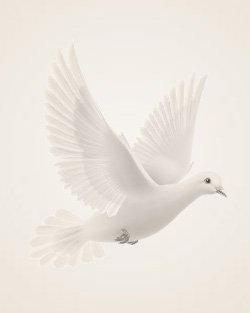 October 17, 1919 ~ January 1, 2013
H.T."Tom" McKennett, 93, of Fargo, ND passed away January 1, 2013. He was born in Webster, SD October 17, 1919 to Lois Nash and Harry McKennett. Tom moved to Bowman, ND at the age of 10 where he lived until 1964. He owned and operated the McKennett Elevators in Bowman and Griffin.
Tom married his high school sweetheart, Thelma Bloomgren, in Ft. Lewis, WA on May 16, 1942 where Tom was serving in the 188th Field Artillery battery.
His military career began in 1939 when he joined the National Guard CM 164th Infantry division while he was a student at the University of North Dakota. In 1940 the National Guard Battery F was activated and sent to Cheyenne, WY. In December 1941, four days after Pearl Harbor, they were on their way to the west coast. In 1942 Tom was sent to officer's candidate school in Ft. Sill, then in 1943 to southern California for desert maneuvers. He was assigned to the 2nd Battalion 144th Field Artillery. During his service he also served in various east coast locations before being sent to France where he spent 7 months at the end of the war. He was called back into service in 1950 and served in Battery B 465th at Camp McCoy, until being released from active duty September 20, 1951.
Five children were born to Tom and Thelma: Tom, Lois, Carolyn, Richard and Pam.
Tom is survived by four children, Thomas H. McKennett (Margie) of Silver Spring, MD; Lois Schneider of Fargo, ND; Carolyn Whittle (Jeff) of Kennett Square, PA; and Pamela O'Dell (Lundy) of Cortland, OH. He is survived by nine grandchildren: Mary Satterlee(Joshua ) of Ft. Campbell, KY; Lois McKennett of Germantown, MD; Mark McKennett of Germantown, MD; Jasper Schneider (Kimberlee) of Bismarck, ND; Rocky Schneider (Shelli) of Fargo, ND; Leslie Brewer (David) of Leesburg, VA; Scott Whittle (Gina) of West Chester, PA; Lindsey McKennett of Ysilanti, MI and Lauren Mathis (Chris) of Westerville, OH. He is also survived by 19 great grandchildren, his brother-in-law Ernest Bloomgren, and sister-in-law, Dorothy Pearson.
Preceding him in death were his loving wife of 65 years, Thelma "Tim" in 2007; his son, Richard McKennett, daughter-in-law, Judy McKennett, grandson, Michael McKennett and granddaughter, Megan McKennett in 2002; great granddaughter Sophiah Mathis in 2010; and also his brother-in-law Edgar Pearson and sister-in-law Opal Bloomgren.
In 1965, Tom moved his family from Bowman, ND to Arizona where Tom completed his interrupted college education (which began in Santa Monica Community College and the University of North Dakota) at the University of Arizona. He graduated with a BS in Business Administration in 1967. After moving to St. Louis, MO and St. Petersburg Beach, FL, he relocated to Denver, CO in July 1971 to work for the Small Business Administration (SBA). He continued with the SBA at locations in Rapid City, SD and then to Helena, MT in September, 1980. Tom continued to live in Helena until 2008, where he and Thelma were members of the Covenant United Methodist Church. Tom retired from the SBA in 1983, and spent his retirement enjoying their wonderful friends in Helena, golf, and traveling to visit his children and friends around the country. In 2008 Tom moved to Fargo to Bethany Homes to be near his eldest daughter, Lois.
Tom loved traveling to warm sunny areas, loved the beach, playing golf as well as camping and fly fishing in Yellowstone in his younger days. He enjoyed flying his private plane to warm locations. He was devoted to the Boy Scouts, the Shriners, the Chanters and the Masons. He was a former member of the Bowman United Methodist church. During the 50th anniversary of Bowman, he was President of the Chamber of Commerce.
Tom always looked for the good wherever he was and had a smile for all those around him. He always expressed appreciation for what others did for him including in his final moments. His family is grateful for his long and full life.
Memories Timeline
Guestbook
---