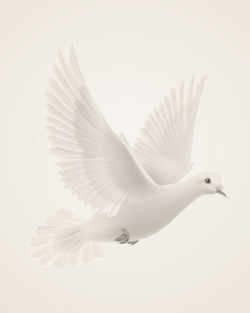 November 19, 1935 ~ August 7, 2012
Mary "Jean" Wold passed from this life to her heavenly home August 7, 2012. Mary "Jean" Williams was born to James F. Williams and Gladys Forness Williams November 19, 1935 in Moorhead, MN. The family moved to Fargo in 1947 where Jean attended St. Anthony Elementary School. Jean graduated from Shanley High School in 1953. Jean worked for Blue Cross/Blue Shield of North Dakota before going to work for North Dakota Agricultural College in the Botany Department.
Jean married the love of her life, James Wold, on June 15, 1957 at St. Anthony of Padua Catholic Church, Fargo, Jean and Jim then moved to Rochester, MN where they lived for 12 years. During that time Jean worked as a dental assistant while raising their three children. The family moved to Arizona living there from 1970-1972. In 1972 the Wold family returned to Fargo, making this their home.
Jean was a member of Nativity Catholic Church , Fargo. Jean supported several charitable causes including United Way and Fargo Catholic Schools. Jean loved spending time with family at their lake home. Her three grandchildren have been a highlight in her life. Jean enjoyed cooking, reading, and gardening. She maintained a warm spot within her heart for the many dogs that became a part of her life.
Jean and Jim shared many of the same outdoor adventures. Together they enjoyed hunting, fishing, boating, and snowmobiling. One of Jean's most exciting exploits was flying a plane solo. Jean and Jim spent ten winters in South Padre Island, TX enjoying the beach with family and friends.
Jean's love of life, family and friends was evident in how she lived each day. Her quiet strength with her ability to take life as it comes is an inspiration to all. Jean is God's beloved child surrounded by his Holy presence for eternity.
Jean is survived by her husband, James Wold, Fargo; children, Jeff Wold, Saudi Arabia, Jay Wold, Palmdale, CA and Sara (Scott) Bleth, Horace, ND; grandchildren, Mark and Lauren Richardson, and Carly Bleth; brothers, Gregory (Denise) Williams, Michael (Susan) Williams, Fargo, ND; sisters, Kathleen (Bud) McCroskey, Joan (Larry) Schuh, Fargo, ND; Peggy (Doug) Antonelli, Raleigh, NC, Jane (Larry) LaMont, Edina, MN, Deborah (Rob) Hinderliter, Franklin, TN; sister-in-law, Jane Williams, Ulen, MN; brothers-in-law, Tom (Lisa Wheeler) Wold and Don (Micker) Wold, Fargo, ND; and twenty nine nieces and nephews.
Preceded in death by her parents, James and Gladys Williams; brother, James Williams; and sister, Laura Williams Jaffe.
Memorials preferred to Hospice of the Red River Valley, Elim Care and Rehab Center, or Fargo Catholic Schools. We would like to thank the many nurses and caretakers at Elim Rehabilitation Center for providing expert and compassionate care.
Memories Timeline
Sign the Guestbook, Light a Candle