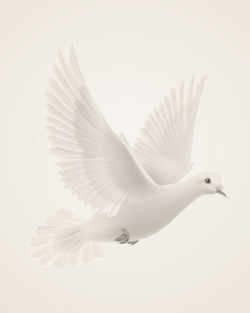 November 17, 1924 ~ March 19, 2014
Kenneth James "Old Crow" Johnson, 89, of Fargo, North Dakota, passed away on March 19th, 2014 peacefully in his sleep at Bethany Nursing Homes under the care of Hospice.
Ken was born on November 17, 1924 in Grand Forks, North Dakota to his mother, Julia Johnson, and his father, Herman Johnson. Ken attended school in Grand Forks until the eighth grade when he quit to work on the family farm.
Ken married Lucille Ruich in 1943; they were married for 26 years. He and Lucille had three children together, Ken Jr., Mary-Beth, and Mitchell. Ken, Lucille and the children lived in Fargo, ND and Sunnyvale, CA.
On September 15th, 1984 Ken married Lorna June Golpen (Jordahl) at their lake home on Big Cormorant Lake in Audubon, Minnesota were they enjoyed spending much of their time. Adding to the family were Lorna's five children, Deb, Kathi, Rocky, Gayle, and Pam making a large fun-loving family.
Ken worked as a machinist at Western Auto and M&J Auto Parts and as a maintenance man at a home for the disabled. Ken enjoyed spending time in his Cadillac's, doing wood work, and repairing cars for others. In his later life, Ken loved spending time at his lake home with his grandchildren and great grandchildren.
Ken is survived by his loving wife, Lorna; his sister Hazel Ackerman; his sons Ken Johnson and Mitch (Dawn) Johnson; his stepdaughters, Deb (Jim) McCullough, Kathi (Dan) Trottier, Gayle Jordahl, and Pam (Rick) Lewis; his grandchildren, Seth Jacob, Kathy Jacob, Scott Johnson, Joe (Carrie) Johnson, Angela and Emily Johnson; his step-grandchildren, Robyn (Ted) Bailey, Tracy (Jeremy) Tjon, Shanda (Denny) Gustafson, Mandi (Nick) Ludowese, Erin (Allen) Moody, Nichole Shell, and Travis (Kyann) Lewis; his great-grandchildren, Alex and Tess Kandalaft; many step-great-grandchildren and several nieces and nephews.
Kenneth is preceded in death by his first wife Lucille; his daughter Mary-Beth Jacob; his parents Herman and Julia Johnson; his brothers Orlando Johnson and Walter Johnson; his sister Lillian (Arthur) Erickson; and his step-son Rock Jordahl.
The Johnson Family would like to extend their thanks to Hospice of the Red River Valley for their wonderful work and amazing care for Ken and his family during this difficult time.
Memories Timeline
Sign the Guestbook, Light a Candle