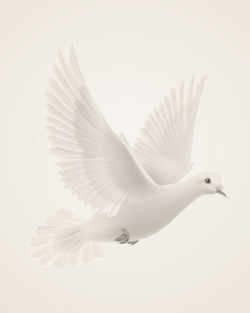 September 29, 1927 ~ October 10, 2014
Lee McMaines, 87, Fargo, died peacefully and unexpectedly on Friday, October 10, 2014 at Sanford Health, Fargo surrounded by his family.
Lee R. McMaines was born September 29, 1927 in Fort Ransom, ND on the original Ronning farm site. He was born to Lee R. McMaines, and Pauline (Ronning) McMaines. His grandparents had come to the United States from Norway and settled in the Fort Ransom, ND area.
As a child he spent summers staying at "the farm" and enjoyed spending time at the Fort Ransom family home. He lived in several cities with his mother throughout his school years, primarily Minneapolis/St. Paul and surrounding area. His father died when he was seven years old. He and his mother settled in Fargo in 1939. He attended school in Fargo until age 17. He enlisted in the Navy in 1944 and served in World War II. After active duty he was discharged from the Navy in 1948 and returned to Fargo to make it his home. He attended North Dakota Agricultural College (now NDSU) for one year before landing a job as a Fargo firefighter.
During his years as a firefighter, he met his wife and life partner, Catherine Dooley. They were married on November 17, 1951. The couple made their home in Fargo and had 6 children, one deceased in child birth.
After marriage, Lee followed his dream of becoming a barber. It truly was his love and passion as he so enjoyed his customers and the work. He attended Molar Barber College and barbered for 14 years. He helped to bring the Journey Men's Barber Union to Fargo. He was elected the first president and later secretary/treasurer of the organization.
Lee was also a member of Naval Reserve and had a firm belief in a strong military and remained active in the Reserve for 21 years. He was so proud to have served his country for so many years.
Lee joined the Fargo Water Department in 1965 and retired from the department in 1990. Upon retirement, Lee and Catherine purchased a year round home at Tamarac Lake and lived there for 10 years before moving back to Fargo to be closer to family.
He had a deep love and commitment to his family. He was simply always there. A self-educated man who was the go to person in the family whenever questions in life surfaced.
Preceding him in death are his mother, Pauline Reed; father, Lee Roy McMaines; several aunts and uncles; and his baby son, David Jon McMaines.
He is survived by his wife of almost 63 years, Catherine; children, Michael McMaines, Jeffrey (Terry) McMaines, Judy (Greg) Peterson, James (Jasel) McMaines, Mary Zander; and brother, Wayne (Sharon) McMaines. He is also survived by his grandchildren, Anne (Lucas) Stram, Laura (Christopher) Carlson, Nathan Zander, Ryan McMaines, Mackenzie McMaines, Michael Colling, David McMaines, Tyler Colling, Dylan Colling, and James McMaines Jr. and great-grandchildren, Oliver, Amelia and Eden Stram; and Carter, Quinn and Sylas Carlson; Daijalon and Darion Hall.
Memories Timeline
Sign the Guestbook, Light a Candle