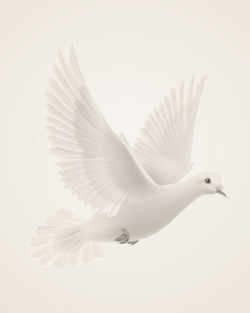 September 28, 1942 ~ September 18, 2010
Leo Eugene Blotsky, loving husband, father, grandfather, brother, uncle, and friend has gone to be with the Lord.
Leo was born on September 28, 1942 to Peter and Mary A. (Bollinger) Blotsky in Raleigh, ND. He graduated from McIntosh High School in 1960. He worked for 4 years in high school for Harold Arnold Bros. Upon graduation, he enlisted in the Army as a Marksman and was honorably discharged on August 7, 1962.
He then moved to Anaconda, MT and worked at the Anaconda Smelter Plant for 13 years. He met his wife, whom he loved dearly, Georgia Ann (Marthaller) Blotsky, whom he married on October 10, 1972. Leo moved his family to Beulah, ND after they shut down the Smelter Plant to work at the Great Plain's Coal Gasification Plant for 20 years, from which he retired. He and Georgia later moved to Fargo, ND to be closer to family.
He enjoyed spending most of his time with his beloved family. His hobbies included playing computer games, soaking up the sun, shooting pool, gambling at the casino, and spending time with his beautiful granddaughter, whom he loved dearly.
He is survived by his wife, Georgia; his son, Leo Blotsky; his daughters Faith Blotsky and Charity (Chad) Lewis; his granddaughter, Brianna; his sisters, Irene (Albert) Bachmeier, Marlene (Henry) Jaszkowiak, Darlene (Don) Sieler, Betty (Alvin) Kraft, Clara (Dick) Goodmanson, Annette (Curtis) Gehering, Cecelia (Blaine) Tishmack, and Vernetta (Jake) Kraft; his brothers Bill (Pat) Blotsky, Charlie (Marla) Blotsky, Gerald Blotsky, David Blotsky, and Jeff Blotsky; in-laws, Adeline Nadeau, Richard (Linda) Marthaller, Betty Marthaller, Alice (Merle) Hill, Dorothy Weber; and many nieces, nephews, and cousins.
He was preceded in death by his mother, Mary A. (Bollinger) Blotsky; his father, Peter Blotsky; his brothers, Melvin Blotsky and Ronnie Blotsky; his in-laws, Viola Linghor, Natalie Peterson, and Kenneth Marthaller; and his grandparents.
Memories Timeline
Guestbook
Sign the Guestbook, Light a Candle