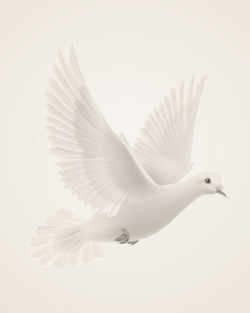 August 29, 1924 ~ February 8, 2013
Leo passed away on Friday, February 8, 2013 at Sanford Health in Fargo surrounded by his family.
Leo M. Thomson was born on August 29, 1924, the son of Theodore and Mary (Pesheck) Thomson, in Roberts Township, Wilkin County, MN. He grew up in this area and received his education in Wilkin County Schools. At an early age he began farming with his father until entering the service. Leo proudly served his country in the United States Marine Corp during WWII where he qualified at a Sharp Shooter with the M I rifle. He served on the Cruiser USS Mobile CL 63 in the occupation of Japan - one of the first ships to enter the Japanese Harbor in Southern Kyushu.
After his discharge he returned to Minnesota where he began farming on his own. Leo was united in marriage to Lois Gehrig in 1949. They made their home on the farm near Rothsay, MN where they farmed for many years. Leo and Lois retired from farming in 1998 and moved into Barnesville.
Leo was an active leader in 4-H having held the office of Vice President and President of the 4-H Council, Project Leader, and county wide Project Leader. He also served as director of the Wilkin County Fair Board for many years and Vice President and President of the Fair Board. He served 12 years on the Rothsay Farmers Coop Elevator Board holding the office of Treasurer. Leo was also active in his church, serving 9 years on the Assumption Church Council, 4 years as a chairman of the board, and was a long time usher, and member of the Knights of Columbus. Leo volunteered many years with the honor guard of the VFW and American Legion Clubs of Wilkin County, serving as Vice Commander and Commander.
Leo is survived by his loving wife, Lois of Barnesville, MN; his son, Curtis (Karen) Thomson of West Fargo, ND; his grandchildren – Shawn (Kathie), Candida, Jesse (Jill) and Jeremy; and his great grandchildren - Bailey, Jada, and Marisa; and Paige, Kimberly, and Kellie. Also surviving is his sister, Lorraine Gehrig of Barnesville; sisters-in-law, Dee (Don) Hibbert; Mildred Bolgrean; Janice (Ken) Cook; several nieces and nephews; and many other dear relatives. He was preceded in death by his parents; and his brothers and sisters.
Memories Timeline
Sign the Guestbook, Light a Candle