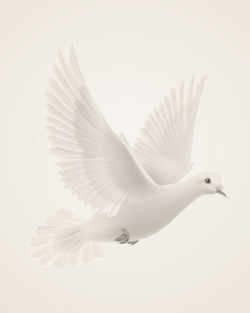 June 17, 1923 ~ September 15, 2011
Leonard Muller, of Hillsboro, ND quietly passed away on September 15, 2011 at the Hillsboro Medical Center, at the age of 88, surrounded by his loving family.
Like Will Rogers, Leonard never met a man he didn't like. Leonard Joseph Muller was born on June 17, 1923 to Alvin and Agnes Muller. He spent all his life farming in the Hillsboro area.
He married his high school sweetheart, Maxine Kozojed, Nov 13, 1947 at St. Rose of Lima Catholic Church in Hillsboro. They made their home on the family farm near Hillsboro where they raised their three children in the house he built and where they farmed for many years.
Leonard was a lifelong member of St. Rose of Lima Catholic church and was active in the Knights of Columbus and church choir. In 1957 Leonard won the very first ND Soil Conservation Program Award proving he was an environmentalist long before the term became popular. From childhood, Leonard was a 4-H club member, raising prize winning cattle and sheep. In 1971 he was awarded by The US Department of Agriculture, and NDSU, the 4-H Emerald Clover citation for 25 years of service as a 4-H club leader. Leonard served on the Hillsboro Public School board from 1971 - 1980, elected president one time.
Leonard enjoyed all aspects of farming. In his younger years he raised sheep, cattle, and hogs. Leonard and Maxine enjoyed their times of travel throughout the US, Canada, and Mexico. Leonard loved to laugh and visit with people. In a crowded area you could always tell where Leonard Muller was from his infectious loud laughter. He also had a love and talent for woodworking and carpentry.
Leonard is survived by his 3 children, Cheryl (Mitchell) Guss, of Willow City, ND; LaRon (Bryce) Risser of Battle Lake, MN; Patrick (Brenda) Muller of Hillsboro, 7 grandchildren and 11 great-grandchildren. Leonard is also survived by his brother, Brother Gerald (Roberto) Muller, Austin, TX. He was preceded in death by his parents and loving wife, Maxine, of 60 years.
A devout Catholic, Leonard lived his faith in God, was a loving husband and father and had many friends. He was an outgoing risk-taking, successful farmer who lived a rich life to the age of 88 golden years.
May he rest in the mercy and peace of God.
Memories Timeline
Sign the Guestbook, Light a Candle