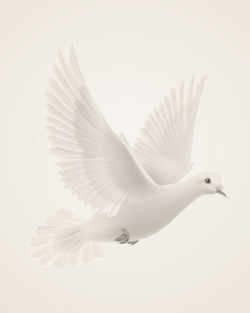 July 9, 1924 ~ August 19, 2013
Lois was a truly remarkable woman. She faced many adversities through her entire life, but she always came through them with a positive, cheerful attitude and a smile on her face.
Lois was born at St. John's Hospital in Fargo to Maud (Bennett) Johnson and Roy Johnson on July 9th, 1924. She was born with a congenital hip, causing her to limp her entire life, but she never let it slow her down. Maud became ill, and Lois and her two younger sisters were left motherless at a very young age until Roy was remarried to Karen Johnson.
Lois attended Clara Barton, Agassiz, and in 1942 graduated from Fargo Central High School. She worked for two years at the Clerk of Court, Gil Wagner Insurance, Western States Insurance and NDSU to earn money for college. Lois attended Carthage College in Illinois, receiving the Crimson Key Award given to an outstanding student, and was class president her sophomore, junior, and senior years. She also worked for the college to supplement her scholarship. Lois graduated in 1948, after only 3 ½ years, with a double major and a minor degree.
Days after graduation, Lois married Frank Jacob Mayer on June 4, 1948 at St. Mark's Lutheran Church. They moved to Minneapolis where Frank attended seminary school, and later lived in Killdeer, ND and Tabor, MN. They adopted two children, Karen and Paul.
Frank became disabled, and Lois took a job teaching history at Fargo Central High School in 1960. She was soon asked by the administration to become a guidance counselor. Lois attended graduate school while working full time and raising two children, and in 1962 earned Master's degrees in education, psychology and counseling from NDSU. She became the chairman of the counseling department at Fargo South High School. She served as President of the North Dakota School Counselor's Association and received recognition from the American School Counselor's Association for her active role. The North Dakota Personnel and Guidance Association awarded Lois the Glenn Dolan Outstanding Service Award for 1978. Lois loved her job and was passionate about helping her students. She took needy students shopping for school clothes and supplies, and on occasion her home acted as an emergency shelter. She retired in 1988, but continued to occasionally teach graduate counseling classes at NDSU.
Lois was an active member of St. John Lutheran Church and for over 30 years volunteered her services. Lois had many interests and held season tickets to the symphony, opera, theatre, and NDSU football and women's and men's basketball. She loved gardening and enjoyed watching the birds, squirrels, and rabbits that frequented her yard. Her love of history inspired her to take her children, and later her granddaughter, traveling all over North America. After she retired, she and daughter Karen travelled to more than 35 foreign countries. Some of her favorite experiences were a camel ride in the Egyptian desert to watch the sun set behind the pyramids, ballooning over Cappadocia and walking through Ephesus in Turkey, river cruises in China and Russia, and seeing the art and architecture all over the world.
Lois loved her family so much and she always made holidays special for them. She is survived by daughter Karen Mayer, son Paul Mayer, granddaughter Danielle Mayer, great-grandsons Tyler and Brent Fike, Danielle's fiancé Ron Rudolph and his son Michael, sister Gloria Landreth, and brother Ron (Julie) Johnson. She was preceded in death by her husband Frank Mayer, mother Maud (Bennett) Johnson, father Roy Johnson, sister Beverly, and stepmother Karen Johnson Cole.
Lois will be greatly missed by family and friends all over the world.
Memories Timeline
Sign the Guestbook, Light a Candle