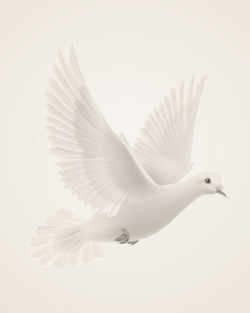 May 9, 1924 ~ July 21, 2010
Lorraine M. Beach, 86, Moorhead, formerly of Hillsboro, ND, died Wednesday 21, 2010 at Sanford Palliative Care, Fargo.
Lorraine Mary was born at Horace, ND, to Arthur and Bertha (Rivard) Montplaisir on May 9, 1924. She attended District 76 school near Horace and graduated high school from St. Benedict boarding school. She completed a business course in Fargo and worked at Western Union and Herbst department store. Lorraine married Bernard Beach in January 1948 and lived on their farm at Kelso, ND for 55 years. She raised chickens and tomatoes for sale and did extensive gardening and canning. Lorraine was known for her sewing and alterations, ranging from patching jeans to bridal wear. She was a member of Kelso Homemakers and was active with the Hillsboro VFW and Women's Auxiliary. Lorraine was also active as a church volunteer, catechism teacher, and housekeeper at St. Rose of Lima parish of Hillsboro. She was a member of Christian Mothers and served a term as president.
After moving from the farm, Lorraine resided at Kelleher Manor in Hillsboro for two years; then lived for four years at an assisted living residence in Moorhead.
She is survived by five sons; Claude (Marilyn) of Valley City, ND, Terry (Patricia) of Moorhead, MN, Tim (Peggy)of Minot, ND, Bob (Ximena) of Minneapolis, MN, Jeff (Sarah) of Lexington, KY, four daughters; Sandra (Dennis) Brase of Cumming, GA, JoEllen (Gary) Harris of Hartsville, SC, Teresa (Dan) English of West Fargo, ND, Susie (Bruce) Ferguson of Cincinnati, OH; 21 grandchildren and 6 great-grandchildren; one brother; Walter (Dorothy) Montplaisir, three sisters; Medrise Johnson, Kathleen Rasmussen, June (Sig) Langdahl.
Lorraine was the ambassador of family togetherness and fun. She provided her children and their families a treasured vacation annually at Ten Mile Lake in Minnesota for the past 30 years.
Memories Timeline
Sign the Guestbook, Light a Candle