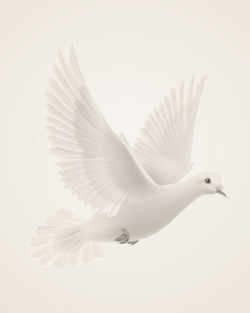 May 17, 1922 ~ October 17, 2010
Lucille Elizabeth Hatfield was born on May 17th, 1922 in Verona, North Dakota and died on October 17, 2010 at National Health Care in Greer, SC. She was 88 years of age. She was the daughter of Charles William and Olivia Mary Simmet Nelson. She was a loving sister to Loraine Nelson Moore and she remained devoted to her even after her death in 1984.
Lucille graduated from Verona High School in 1939 and from St. John's Hospital School of Nursing in Fargo, North Dakota in 1943 as a Registered Nurse. She remained on staff until April, 1944 and then joined the United States Navy as an Ensign and served until March 1946.
Upon completion of the war, she worked at the Veterans Administration Hospital in Fargo, North Dakota until meeting Merle H. Hatfield from Caledonia, North Dakota. They were married in Bismarck, North Dakota on June 18, 1947. They lived and worked at several locations in Ohio and Florida for Babcock and Wilcox Engineering. Lucille was the Emergency Room Head Nurse while in Barberton, Ohio. Their daughter Carol and son Charles were born in St. Petersburg, Florida. They were transferred to Clarks Summit, Pennsylvania in 1958 and remained there until 2009 when they moved to Greer, South Carolina to live with their daughter Carol and son-in-law Walter D. Hines.
Lucille was initiated into Eastern Star Jeannette Chapter 212 of Barberton, Ohio in May 1951. At the time of her death she was a Life Member of the Eastern Star Juanita Chapter 8 in Clarks Green, Pennsylvania. She worked at Mercy Hospital in Scranton, Pennsylvania until retirement and was a loyal volunteer for the Red Cross of Scranton, Pennsylvania. She worked at numerous blood drives in the Scranton area for several years after retirement. She was a member of the United Methodist Church of Chinchilla and served and chaired several committees. She was also involved in various church volunteer activities and was one of the oldest members of 'The Welsh Cookie Baking Team' that provided money for a number of local charities. Lucille also provided home health care for her invalid mother, Olivia, until her death in 1981.
She was preceded in death by son Charles and is survived by her husband, Merle, and daughter, Carol, who both reside in Greer, South Carolina. She has a surviving niece, Laurie Moore Peterson, residing in Clear Lake, Iowa and a nephew, Lynn Moore, residing in Billings, Montana.
Memories Timeline
Sign the Guestbook, Light a Candle