Mike Dirk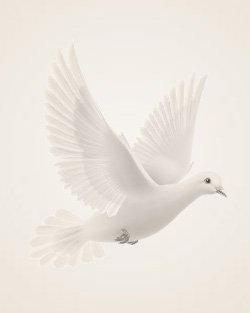 November 23, 1927 ~ November 15, 2014
Mike Dirk, 86, Fargo, ND, died in his home surrounded by his loving family and under the care of Hospice of the Red River Valley on Saturday, November 15 in Fargo, ND. Mike had a very strong faith in God and his Catholic faith and has now found a deserved peace and freedom from pain.
Mike Dirk was born November 23, 1927 in Raleigh, North Dakota, the ninth child of Daniel and Scholastica Dirk. Mike was raised on a farm near Saint Gertrude, ND and continued to work the family farm through his school age years. He married Leona Loeb on September 18, 1950 at Saint Gertrude's Catholic Church.
Mike served in the United States Army for 10 months from 1946-1947 in Manilla, Phillipines, helping maintain the U.S. Cemetery there. He returned to farming upon his arrival back in the states. Mike then drove gas truck from 1951-1953. Mike and Leona moved to Arthur, ND in 1953 where they farmed and Mike worked as a laborer. They farmed land owned by Ed Steffes from 1962 until 1967. It was while they lived in Arthur, ND that many of their children were born. Mike and Leona moved to Fargo in 1967. Mike worked for North Dakota State University in the Animal Science Department for 23 years. He retired in 1989.
Beyond Mike's ever present love of family, he had a passion for woodworking. With the help of his family, Mike built his beloved "shop" as an add-on to the garage in the early 1980's, where he spent hundreds of hours. Family members and friends were blessed with the many keepsakes Mike would build and craft over the years. Mike could build massive, beautiful projects such as full-wall entertainment centers down to intricate, beautiful bird houses and jewelry cabinets. His huge hands somehow, amazingly, would manipulate miniature dowels. Mike thrived in his retirement continuing his many woodworking projects and fully engaging in his second passion, fishing. Mike and Leona bought a camper after their retirement and became true "lake people" for 7 years. He spent countless hours on the water both with family and also in individual solitude. It was during this time that Mike and Leona truly had a relaxing bliss that they so deserved before time and disease would start to show themselves more fully.
Even during their medical difficulties, Mike and Leona were still able to enjoy bus tours around the country to places such as New England for fall scenery tours and to Branson, Mo. to enjoy their beloved country music. Mike and Leona were very skilled dancers who never ceased to amaze their family with their talent even in their later years. You could truly feel the love they had for each and the joy it brought them to be on a dance floor. Many of the family remember record playing moments and dancing in the living room growing up. Music was such a huge part of their lives.
Mike Dirk Sr. was a dedicated and loving husband, father, brother, grandfather, and friend to all that knew him. He was the standard bearer when it comes to hard work and dedication to get things done. He was a quiet, strong, man who was fervent in his beliefs both spiritually and politically. At the same time he had a wonderful wit that often times would also expose his mischievous side. Mike could have easily succumbed to illness on several different occasions but his desire to continue to be there for his wife Leona and to watch as all of his grandchildren grow up nourished him as he marched on. Mike Dirk provided his family an indelible template to develop strong character for many generations to come.
Mike is survived by his wife Leona, Fargo, ND; children Dan (Coleen), Rogue River, OR, Doug (Lisa), West Fargo, Constance Brust (Kim), Fargo, Michael (Doreen), Fargo, Patricia (Paul Swanson), Fargo, Andy, Fargo, Robert (Jennifer), Fargo, daughter- in-law, Jo Dirk , Dent, MN, 11 grandchildren Josh, Nathan, Adam, Rob, Erin, Mara, Jeremy, Tammy, Terri, Meghan, Alex; 6 great-grandchildren Ashley, Amanda, Amber, Paisley, Aiden, Amelia; two sisters Helen Kahl, Edith Lener; many nieces and nephews.
He was preceeded in death by his parents Scholastica and Daniel Dirk, his son, Rick, brothers (sister)in-law) Joe (Flora), Tony (Marie), Rasmus, Arsenius, Emanuel (Monica), infant sister, Refina, sisters Kathryn Schwalick, Lydia Brown Brother-in-laws: George Lener, Zachius Dirk, Casper Schwick, Paul Brown.
Memories Timeline
---