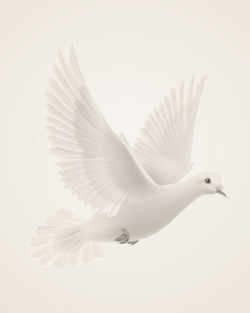 July 14, 1921 ~ July 16, 2013
Orvin Gerhardt Hagen was born July 14, 1921 to Agnes (Melhus) and Thomas O. Hagen in Bottineau County the 4th of 9 children. His family moved to Rolette County when he was a young boy where he attended Beaver Dam School. During this time he spent 2 years taking care of his Grandpa Ole and Grandma Gro Hagen and was schooled at Look Lake #2, Bottineau County while living with them. He was determined to get a high school education and did earn his G.E.D. from Bottineau High School many years later in 1957
On his 11th birthday, July 14, 1932, The International Peace Garden was dedicated and he and his whole family attended the occasion, never ever dreaming that some day he would be known as "The Flower Guy from the Peace Garden" or "Mr. Peace Garden" – after working there for 30 years.
Orvin's father died in 1934 so Orvin helped his mother raise his 5 brothers and sister still at home. In 1942 Orvin, his mother and the 3 remaining siblings at home moved to a farm in Homen Township, Bottineau County – when his sister Helen Nelson died in 1944 – the 3 youngest boys, Norris, Oliver and Donald came to live with them.
He started working at the Peace Garden in 1956 performing such jobs as tilling and mowing – working under 2 different head gardeners and then was promoted to the top spot in 1962 – Head Gardner.
Orvin was a social guy – always involved and a volunteer that never said no. He gave talks about flowers and the Peace Garden to different organizations, taught adult Sunday School class in the Lutheran Church in Dunseith, also held several offices there and in the Sons of Norway in Bottineau, the Rolette County Historical Society and of the Cemetery Association (25 years), a leader in 4-H, he was in many a play – even Ladies Aid!
He was noted for his yodeling and would do so on special occasions, even in the Alps in Switzerland on one of his many trips later in life.
One year he met Agnes on a bus tour – the next year they were courting and they married August 30, 1980 in front of the flowers that Orvin had planted (along with his "merry band" of wonderful helpers) and about 1,000 people. Ivy Mathision served a wonderful buffet to all these people.
Orvin and Agnes continued to live in the Peace Garden in the caretakers house where Orvin had lived for so long until he retired in 1986 and they moved to Kindred, ND where they have a home and now he plants several gardens.
He had a laugh that when he laughed so did those around him.
In the fall of 1986, Orvin retired from his work at the International Peace Garden as the Head Gardener (30 years), both sides of the Garden, USA and Canada. His last years of working there, he did a lot of landscaping, had casual employees during the summer months.
He joined the Kindred Lutheran Church in 1987 and was member of the Choir. He quilted in the church with the quilters and attended the bible studies. He had been a Lion's member since coming to Kindred and was secretary for several years. He was also a member of the Senior Citizen's, president for 5 years and Charter member of the Son's of Norway. He hauled "Meals on Wheels" for several years in Kindred and helped shut-ins, drove them to many important things, doctor appointments, groceries, etc.
Orvin's wife Agnes passed away May 26, 2005. He lived alone and had great neighbors that did things for him. God Bless Them. For the past 3 years, Orvin resided at Bethany.
Orvin is survived by his stepchildren; Thomas Overboe (Gloria) West Fargo, David Overboe (Debra), Kindred, Sheryl Ask (Curtis), Kent, MN, Phyllis Linscheid (James), West Fargo, ND, step-grandchildren; Jason (Fran) Ask, West Fargo, ND, Andrea (Jay) Thimjon, Wahpeton, ND, Staci (Veran Kapaun) Lee, Kindred, ND, Julie (Tom) Jarvis, Minneapolis, MN, John Overboe, Fargo, ND, Kristen (fiance Jon Buchholz) Overboe, Kimberly (fiancé Dean Gullingsrud) Bauer West Fargo, ND, 4 step-great grandchildren, sister Joyce Evans, Dunseith, ND, brothers Leland G. Hagen (Betty Jo), Bryan, TX, Thomas A. Hagen (Dot), summer in ND, winter in Mesa, AZ and nephews Don (Sharon) and Oliver Nelson, Dunseith, ND.
He is preceded in death by his wife Agnes, parents, Tom and Agnes (Melhus) Hagen, brothers Alfred Hagen and Lawrence Hagen, sisters Helen Nelson, Lorraine Hogue, and Thelma Johnson.
Orvin's family would like the thank the staff of Bethany Retirement Living for the wonderful care they gave Orvin these past 3 years.
Memories Timeline
Guestbook
Sign the Guestbook, Light a Candle