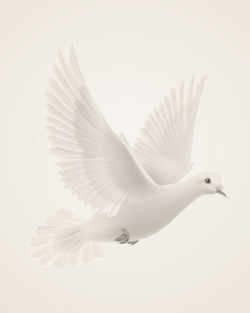 October 21, 1916 ~ October 1, 2012
Peter Wickenheiser, 95, Fargo, was welcomed into the arms of the Lord on Monday, October 1, 2012 at his home under the care of his loving family and Hospice of the Red River Valley.
Peter Wickenheiser was born October 21, 1916 in Strasburg, ND the son of Peter P. and Margaret (Lacher) Wickenheiser. Peter was the oldest of 4 children: Phyl (Wickenheiser) Boschee, Clara (Wickenheiser) Schmidt, Eva Wickenheiser.
Peter attended St. Benedicts grade school, Strasburg. The family moved to Zeeland, ND in 1929 where he finished grade and high school. He graduated from Zeeland High School in 1935. While going to school, he worked part time with his dad for Beaver Oil Company. He attended Aberdeen Business College and graduated in 1936. He went on to work for Robert County National Bank in Sisseton, SD for a short time. He moved from Sisseton to Minneapolis, MN to work for Sterling Oil Company in the accounting office.
While in Minneapolis Peter married Doris Hiles on January 6, 1940 and to this union a son, James was born on February 2, 1941. He also worked part time at the Sterling Oil Company branch in Aberdeen, SD.
In 1946, Peter went to work for Halvorson Sales Company in Minneapolis as an office manager. He was employed there until his wife, Doris, passed away on November 11, 1947.
Peter and James moved to Bismarck, ND where he was employed by Northwest Beverage Company as the office manager. While in Bismarck, Peter married Helen Reis on June 9, 1948 in St. Boniface Catholic Church, rural Kintyre, ND and to this union 9 children were born – 3 boys and 6 girls: Marguerite Ann, Mary Louise, Richard Alan, Michael John, Charles Lynn, Teresa Kay, Janet Marie, Barbara Jean, Julie Ann.
In 1972 he was transferred to the main office in Fargo, ND where he worked until he retired in 1985.
Peter and Helen enjoyed spending time with family at their lake cottage on Lake Ida for 20 years. This past summer Peter enjoyed spending time with family on Loon Lake in their home gifted to them by their children. In July, Peter's children, grand-children and great grand-children united for a Celebration of Life on Loon Lake. They attended Holy Spirit Catholic Church where Peter was an altar server until the age of 91. Peter was an honorary member of the Knights of Columbus, 3rd and 4th degrees. He was also a past member of the Eagles Club from Bismarck.
Peter is survived by his wife, Helen; children, Marguerite (Tim) Felchle, Natchitoches, LA; Mary (William) Kelsch, Bismarck, ND; Richard (Sharon) Wickenheiser, Red Bluff, CA; Michael (Janet) Wickenheiser, Centennial, CO; Charles (Theresa) Wickenheiser, Fargo, ND; Teresa (Bruce) Dodds, Hempstead, Texas; Janet (Jeff) Slaven, Lenexa, KS; Barbara (Terry) Magnuson, Vergas, MN; Julie (John) Heinze, Moorhead, MN; 19 grand-children; Kristen and John (Felchle) Evans, Jessica and Tony (Felchle) Peluso, Erika and Dudley (Felchle) Cedars, Michael and Angela Kelsch, Christopher and Qiana Kelsch, Sarah Kelsch, Jeremy Wickenhesier, Peter Wickenheiser, Michael Wickenheiser, Trevor and Adrienne Wickenheiser, Leah Wickenheiser, Chad Dodds, Amy and Logan Wiedenfeld, Haley Slaven, Abigail Slaven, Ben Magnuson, Taylor Magnuson, Justin Heinze, and Ashley Heinze, and 12 great grand-children, Aiden Evans, Addison Evans, Avery Evans, Madelyn Peluso, Isabella Peluso, Anna Peluso, Winn Cedars, Holt Cedars, Maxwell Kelsch, Will Kelsch, Alexis Wickenheiser, and Cormac Wiedenfeld.
Peter was preceded in death by his parents, sisters, Eva, Clara and Phyl, his first wife, Doris, son, James and great grand-child, Andrew Evans.
The family would like to extend a special thank you to Amy of Sanford Health and the staff of Hospice of the Red River Valley, especially Dr. Langlois, Shaun and Von.
In lieu of flowers, the family suggests memorials be given to Hospice of the Red River Valley or The Holy Spirit Altar Server Fund.
Memories Timeline
Guestbook
Sign the Guestbook, Light a Candle