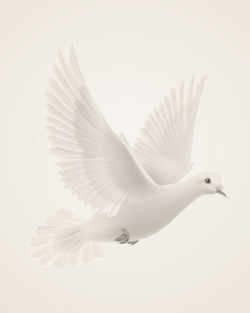 May 3, 1926 ~ December 20, 2013
Regina Florence Bornstedt Smith, age 87, died peacefully in her sleep on Friday, December 20, 2013.
Regina was born May 3, 1926, to Alfred and Mary Bornstedt of New York City. She grew up in the Bronx and was a graduate of Mount St. Ursula Academy and Katharine Gibbs Secretarial School. She married the love of her life, James Brendan Smith, M.D., on June 14, 1947, in New York City, and they immediately moved to south California, where he completed his assignment in the United States Navy and his medical residency. Together, they raised six children: four boys and two girls. In 1967, they gave up a hectic city life in California for a small town in Powers Lake, ND, where they continued to raise their family.
Regina was a devoted homemaker and skill secretary. Her talents and hobbies included sewing and all kinds of needlework, reading, and church activities. She was a devout Roman Catholic and she loved to remember her children and grandchildren with small gifts and cards throughout the year. Regina's last years were spent in Fargo, ND, near her son Tom and his family.
She was preceded in death by her loving husband and by their son, Michael. Left to cherish her memory are three sons, two daughters, their spouses, thirteen grandchildren and one great-grandchild. Her children include; Rev. James (Gregory) Smith, O. Praem., Silverado, CA, Rev. Philip (Timothy) Smith, Santa Ana, CA, and Thomas (Jenny) Smith, Fargo, ND, Patricia (William) Stelt, Denver, CO, Christine (William) Pedeaux, Bossier City, LA, Grandchildren; Julie (Bill) Weeks, Roeland, KS, Paul Smith, Denver, CO, Jaclyn Smith, Denver, CO, Jenna Smith, Kansas City, KS, Christopher Pedeaux, Bossier City, LA, Sean Pedeaux, Bossier City, LA, Paula Pedeaux, Houston, TX, Collin Pedeaux, Portland, OR, Desirée (Charlie) Wilson, Fargo, ND, Heather (Michael) Walleen, Glyndon, MN, Jessica, Christina and Madeline Smith, all of Fargo, ND, and one Great-Grandchild, Michael John "M.J." Walleen.
The family wishes to thank the wonderful staff of Hospice of the Red River Valley and Eventide Skilled Nursing Facility for their loving care of our dear mother and grandmother.
"…Take hold of the eternal life to which you were called." 1Timothy 6:12
Memories Timeline
Guestbook
Sign the Guestbook, Light a Candle