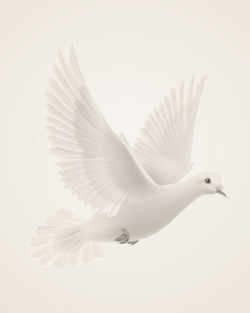 February 19, 1923 ~ October 25, 2011
Richard J. Witt, 88, Fargo, passed away Tuesday, October 25 at San Jacinto Methodist Hospital, Baytown TX.
Richard was born in LaMoure, ND on February 19, 1923, the son of Elmer and Hildegard (Welu) Witt. He graduated from LaMoure High School in 1941. He attended the College of St. Thomas, St Paul, MN. Richard enlisted in the U.S. Army Air Corps in 1942 and was commissioned 2nd Lieutenant as a navigator from the Hondo Navigation School. He joined his crew in Lincoln, Nebraska and flew to the Gander Field, Newfoundland to the Azores, North Africa and on to Italy joining the 464th Bomb Group flying on B-24's. In his 26th mission, he was shot down over Vienna, Austria October 17, 1944. He was taken prisoner and was at Stalag Luft 3, Saigon, Poland. He was transferred with other prisoners in the midst of a blizzard on January 27, 1945 marching approximately 80 miles to a railroad marshalling yard where he was put in railroad cars jammed in so hardly they could find a place to occupy. After many harrowing hours under bombardment and no food they finally came to Stalag Luft 7. He was freed by Patton's tank troops on April 29, 1945. He was discharged from Army Air Corps as 1st Lieutenant. He went back to college at the College of St. Thomas and after taking several courses at the University of Minnesota he graduated with a Bachelors Degree in Business in 1947.
He married Colleen G. Baertsch from Marion, ND on August 24, 1946 in the Holy Rosary Catholic Church in LaMoure, ND. He began working for the Internal Revenue Service upon graduation. In 1950 he joined the G. R. Conoboy Certified Public Accounting firm working there until 1958. From then until he retired in 1988 he was with Kaye's Printing, where he also served as president from 1978 to 1988.
Richard's community involvement included a membership in the Fargo-Moorhead Cosmopolitan Club and he was involved in many charitable functions raising money for Diabetes, Rape and Abuse Crisis Center, YWCA, and others; Ambassador's Barber Shop Chorus, FM Advertising Club, Moorhead County Club, AARP, Vita Income Tax Preparation and various others.
He was an active member of the Holy Spirit Catholic Church, was on the parish finance council, was a member of the Knights of Columbus 3rd & 4th Degree, active in choral and choir groups from high school, college and the churches he attended, member of the American Legion, Veterans of Foreign Wars, Elks Club, and Ex-Prisoners of War.
Most important to Richard were his faith, family and friends. He enjoyed playing golf, hunting, fishing, sports and his many trips to Canada, also traveling to Europe and Mexico. He & Colleen spent winters in Mesa, AZ since 1988.
Richard is survived by his wife of 65 years, Colleen; one son, Jonathan (Linda) of Cincinnati, OH; two daughters, Mary Michelle (Billy) Brewer, Baytown, TX; Teresa Marie Witt, Burlington, VT; seven grandchildren; Lorraine (Frank) Witt Antao, Milwaukee, WI, Amy Witt, Cincinnati, OH, Hillary Brewer, Margaret Brewer, Catherine Brewer, Baytown, TX, Andrew and Stewart Hill, Burlington, VT; and one great grandson, Samuel. He is also survived by a sister, Lorraine Olson, Oakland, CA.
In lieu of flowers memorial may be sent to the American Red Cross.
Memories Timeline
Sign the Guestbook, Light a Candle