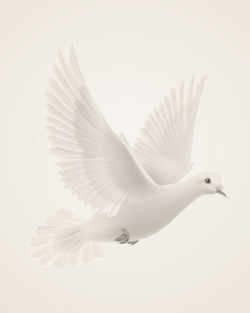 January 1, 1970 ~ November 25, 2013
Richard Jerome Wolfert died Monday, November 25, 2013 in the Palliative Care Unit at Sanford Hospital, Fargo. Richard was born Oct. 18, 1929 to Emma (Awe) and Jerome Wolfert in Chicago, IL.
The death of Richard's father when he was 7, significantly altered life for Richard and his mother, as Emma needed to find employment outside the home to hold body and soul together. At age 16 Richard quit high school taking a job at a greenhouse. During the four years he worked there, he worked along side German War Prisoners. That experience continued to influence his perspective at many points during his life. It was also during this time that he attended night school learning about electronics.
When Richard was 20 he returned to Charles Proteus Steinmetz High School in Chicago, graduating high school at the age 22. During his time in high school he was able to develop his interest in music, being exposed to classical music and learning to play the bass. While attending Wright Junior College Richard worked in the Library where he met and married AnnaBelle (Ann) Zaslavsky on 2-11-53. Richard continued his formal education receiving a Masters Degree in Library Science with an emphasis in Music from University of Chicago in l959.
During the Korean War Richard was a Conscientious Objector. His connection with the Quaker Community helped him make arrangements to carry out his civil service as a houseparent and storekeeper at the Protestant Home for Unprotected Children in Buffalo, NY. Richard and Ann lived with the children they served and it was during this time in the orphanage that Jenny, their oldest daughter was born. Two years later Richard and Ann moved back to Chicago where Richard took a position at the Municipal Reference Library at City Hall in Chicago. Richard also worked at the Public Library in Racine, WI; the State Library in Madison, WI; Director of Bismarck Public Library in Bismarck, ND. Richard became the ND State Librarian in l969 and served in that position until l980.
Richard encouraged the concept of cooperation and sharing of library resources and services within the entire state. He was a staunch definer of the right to read, listen, and view a wide range of ideas without hindrance of local cultural bias.
After retiring from library work Richard and Ann moved to Boulder, CO where he entered a two year program, receiving a certification and license from Rocky Mountain Healing Arts Institute. Richard worked as a Massage Therapist in Bismarck and at the Elks Lodge in Fargo until it closed in 1994. As a Massage Therapist Richard practiced from a holistic viewpoint, stressing the interaction of spirit, mind and body into one organic and spiritual system. In l997 he was ordained a Reike Master in Natural Healing.
During his life time, Richard studied and received his Realtors License, studied at Unity Divinity School in Kansas City, MO, served on the ND State Historical Society Board and State Humanities Council. He served as an executive officer with AARP and the State Massage Board and as an ombudsman in Fargo.
Richard married Ruth Wirtzfeld in l994 at which time Richard officially "kind of retired." Richard made a most wonderful wife taking care of their home. He loved to grocery shop, bake bread, organize the pantry as only a librarian could do, and manage the household budget with all the skills he had learned from his years of administration of the state library.
His love for music continued to grow throughout his life collecting his own library of music, cataloged so a single song could be found even in his extensive collection. His eclectic spirituality was nurtured by his connections with a diverse collection of friendships over his lifetime. Richard was part of a group developing the Taize Worship Service at Presentation Center often doing a scripture reading in German. In days of better health he found great comfort in the group that met regularly for Centering Prayer at the Prayer center.
In retirement Richard enjoyed spending time at Sacred Heart Convent. He loved the atmosphere of the convent and would often take a book and sit by the fire place and read, join the sisters for coffee and then come home. Richard had great affection for the Sisters of the Presentation. He always felt welcomed by them and on occasions when Ruth needed to go out of town he would stay in the guest room at the convent, loving his time living with the Sisters. During his life time Richard had connections with the Lutheran, Baptist, Unity and Episcopalian denominations. In the Presentation Sisters and convent, he found a spiritual home.
Richard was preceded in death by his parents, his wife, Ann, and seven brothers and sisters. He is survived by his wife, Ruth, and daughters: Jenny (Mike) Schwieters, Roseville, MN and grandchildren, Katelyn and Andrew Schwieters; Emily (Paul) Indegaard of Maple Grove, MN and grandchildren, Rory, Cody and Kelsey Indegaard.
Memories Timeline
Guestbook
Sign the Guestbook, Light a Candle