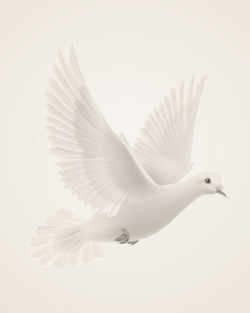 July 18, 1923 ~ May 11, 2011
Robert passed away on Wednesday, May 11, 2011 at Elim Care Center in Fargo, ND at the age of 87.
Robert E. Cockerill was born on July 18, 1923 the son of Leon and Eva (Martin) Cockerill in Papillion, NE. Eva passed away when the children were young. Leon was remarried to Irene Margaret Bradsby and together they raised their family. Robert's early years were spent in Nebraska. He later moved to North Dakota with his family, living in the rural Mapleton, ND area. He graduated from Mapleton High School in 1941. Robert was united in marriage to Marjorie Lorraine Malstrom on October 21, 1944. To this union 4 children were born. Together they raised their family and farmed for over 40 years in the Davenport area. After retirement they moved to Fargo where they have lived since.
Robert loved spending his days on the farm with his family. Going for drives, looking at the crops, and visiting with neighbors were some of his favorites. He loved all of his family- especially his grandchildren. Other pastimes were golfing, hunting, fishing and playing cards. He enjoyed watching the North Dakota State University Bison and the Minnesota Twins.
Robert is survived by his loving wife of 66 years, Marjorie; his two daughters, Susan Ackerson of Aberdeen, SD; and Cheryl Best of Clitherall, MN; his grandchildren - Natasha Best, Cassie Forster, Brin (Amy) Forster, John Ackerson, Kim Ackerson, Darlene (Timothy) Lindsey, and Amy (Kevin) Hanson; his great grandchildren - Piper Forster, Evan Ackerson, Jacob Ackerson, Skylar Hanson, Tristan Hanson, Zachary Hanson, Genna Bauer, Macoy Bauer, Drew Ackerson, Brandon Lindsey, Jordan Lindsey, Michael Cockerill, and one little special one on the way. Also surviving are his sisters, Betty Trom of Fargo; and Phyllis Stuckle of Seabrook, TX; his brother, Jude Cockerill of Mapleton; and many nieces and nephews.
Robert was preceded in death by his parents; his sons, Robert "Bobby" Cockerill Jr.; and Ricky Cockerill; his grandchildren, Lyle Cockerill and Wray Cockerill; his brother, Dean Cockerill; and his sister, Nancy Nelson.
Memories Timeline
Sign the Guestbook, Light a Candle