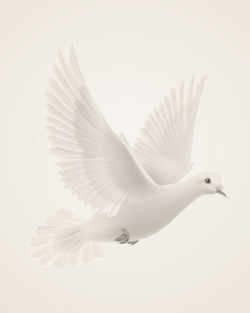 January 8, 1925 ~ June 25, 2012
Robert D. Peterson, 87, Fargo, formerly Enderlin, passed away Monday, June 25, 2012.
Robert D. Peterson was born January 8, 1925 to J. Roy and Ednah Douglass Peterson at Enderlin, North Dakota. Robert grew up in Enderlin and graduated from Enderlin High School in 1943. Following graduation he enlisted into the United States Marine Corps and went through recruit training at the Marine Corps Recruit Depot at San Diego, California, where he received a sharpshooter medal. He continued his Marine training with the 5th Marine Division at Camp Pendleton, California and on the Big Island of Hawaii. As part of the 28th Marine Regiment, Robert landed on Iwo Jima on D Day February 19, 1945. On February 23, 1945, he witnessed the famous flag raising on Mount Suribachi.
Following Iwo Jima, he was transferred to Japan for occupation duty. Robert was honorably discharged from the Marines in May, 1946. He was accorded a good conduct medal, the Asiatic Pacific Theatre ribbon with a battle star for Iwo Jima, USA Defense ribbon and a WWII Victory medal. With his military service completed, Robert attended and graduated from Worsham College of Mortuary Science of Chicago, Illinois in May 1948. On November 10, 1948, he married Lola Card in Minneapolis, Minnesota and moved to Redding, California. They later returned to Enderlin, North Dakota where he was associated with the J. Roy Peterson Funeral Home to be with his father as a third generation funeral director within the family owned funeral home that served Ransom County for over 75 years.
Robert and Lola purchased the Peterson Funeral Home in Enderlin, North Dakota in 1963 and operated the business until his retirement in 1990. Upon retirement they moved to Fargo, North Dakota to make their home and also enjoy their lake home on Fish/Pelican Lake for many years.
Upon retirement, the North Dakota Funeral Director's Association honored Robert for 50 years of service to his community and profession. He had memberships in the American Legion and Enderlin VFW for over 50 years and other community service organizations. Robert was also one of the original Enderlin business people who financed and built the Hillcrest Manor Retirement Home, now known as Maryhill Manor.
In later years, he and Lola enjoyed their winter home in Grand Junction, Colorado to be near their son.
He is survived by his wife, Lola; son, Scott (Juanita) of Grand Junction, Colorado; sister, Dorothy of Bellevue, Washington and several nieces and nephews.
He was preceded in death by his brother, Charles.
Memories Timeline
Sign the Guestbook, Light a Candle