Robert Follett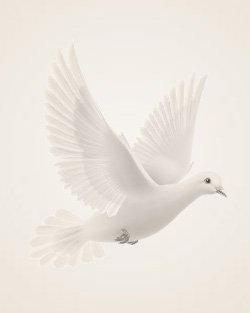 October 20, 1916 ~ May 20, 2014
Our beloved father, grandfather and great grandfather Robert Cotesworth Follett passed away on May 20th, 2014 after 97 years of teaching us to love the sweetness and music of the world around us.
Bob was born October 20th, 1916, in Fargo, N.D. to Birdie and Lee Follett. They lived in Moorhead and then Sabin, MN. Bob was a big brother to his only sister Jan and in this mostly rural space, they grew up enjoying the nature surrounding them. Eventually, the stress of The Great Depression pushed Bob's family to re-locate to Mosinee, WI where he graduated from high school in 1934. Bob first observed the responsibility of caring for a family as he followed his father around the Midwest. Bob returned to Fargo and in 1939, completed his degree in Mechanical Engineering at NDSU before he made a very important connection.
Bob's best friend Mal had a cousin Virgie, and Mal did us the great favor of getting those two acquainted. Bob and Virgie's courtship was filled with many idyllic memories like riding around St. Paul together in the back of Mal's car—with a trunk that opened like a backseat. They loved listening to music together and Virgie really wowed Bob when he learned she could play the accordion and the piano. Bob and Virgie married on May 17th of 1941; she carried lily of the valley and they were attended by Virgie's sister and brother-in-law, Minerva and Art Crossley, Bob's sister and brother-in-law Janice and Connor Patman, and, of course, by Mal Olsen and his wife Eileen.
Soon after they married, Bob attended Officers' Candidate School in N.J. and then proudly served our country in the World War II army signal core. Lieutenant Bob Follett was stationed at Camp O'Reilly in Puerto Rico, working as a Telephone and Telegraph Installation and Test Engineer, and Post Signal Officer, helping to make telephone communication possible across the island. He was later promoted to Captain and awarded the American Theatre Medal and the Victory Medal. As he was instituting important changes in the world, Bob also began to master one of his great joys in life: photography. It was during that period when he learned the technical aspects of freezing a beautiful moment in time. This provided us with so many potent memories, and also a family legacy filled with photographers and a love of cameras. The island visuals so influenced Bob that back home, he kept their house painted a coral pink all the years they lived on Woodland Drive.
In Fargo, Bob began a long career at Northwestern Bell Telephone Company as an accounting manager and retired after 41 years, in 1976. He kept up his friendships while golfing and by volunteering with the Telephone Pioneers and driving for United Blood Services. Everywhere he went in town, he would see someone who remembered him fondly. He was a cherished boss who led the office through a difficult transition from book-keeping on paper to computerized accounting.
Bob and Virgie filled their lives with children: Nancy Jean, Steven Carl, Vicki Lucille, Bonnie Marie, Peggy Ann and Linda Louise. Apparently, these few kids couldn't keep them busy enough so Bob and Virgie found themselves a lake place where they could get their offspring out into the wilderness to explore and play. With his own hands and the help of his dad, Bob built the wonderful cabins on Little Toad Lake and spent a lifetime of meaningful moments hunting and fishing and gardening with Virgie, caring for their many stunning roses. He bonded with his daughters and son, teaching them to water ski, build fires, and learn the names of birds, flowers and trees. He was always busy, intent on keeping everything ship-shape. He taught the kids to work hard and love the outdoors and carried on the tradition for the next generation. Bob taught the grandkids how to swim, pull up weeds with their toes, and keep calm when baby leeches clung to their skin. He loved to thrill them by holding a cup of water over their heads and asking, "Now where do you want this?" or pretending to bite wood ticks in half.
Bob devoted himself to his grandkids Jason, Stacy, Dawn, Corey, Natalie, Todd, Joel, Zachary, Kayla, Charlie, Vincent and Avalon. They could count on him to faithfully attend their figure skating events, piano recitals, soccer, baseball and hockey games, track meets, and plays. He loved to hear them make music and he chided them to eat healthy. His grandkids learned that he was compassionate and generous and they saw him give tirelessly to people less fortunate. In his basement office, they watched him take careful responsibility of his finances, surrounded by pictures of all of them, and enjoying his favorite tunes. They loved to look in his wallet at the ever-unfolding list of their names and birthdays—vital information Bob meticulously recorded and carried with him everywhere he went.
Bob loved his great-grandbabies and could be found rocking them in the hospital shortly after they were born. He believed in their futures and created the foundation for them to go to college. He was never too busy to take them to park, out to feed the birds, apple picking, or to the grocery store. He adored all those babies: Emma, Cassidy, Chris, Cody, Garrett, Jaxson, Carson, India, Jude, Elias, Ivy, Keats, Katori and Arielle. He will even have two more great grandchildren born this year.
Bob never stopped serving his family and took over care of his stepmother Katherine when Bob's father passed. Bob later devoted his time to caring for Virgie when she became dependent on him in her struggle with Alzheimer's. His tenderness for her grew everyday, no matter how he was taxed. When Virgie passed away just before their 61st wedding anniversary in 2002, Bob was lost without her. He committed himself to staying active, taking a daily three-mile walk and often golfing with his close friends. A few years later, his old chum Eileen Olson rescued him. She came for a visit and when she left, Bob knew he had to follow her. At 89 years old, he traveled to Medford, Oregon, put on a gray suit and a purple tie, and was blessed to marry Eileen who had been widowed for seven years. The two of them embraced life, relishing the beauty of the mountains around them. Now, Bob had a sunny companion to take his daily three-mile walks with.
After lots of love and laughter, Bob's health declined and Eileen wrestled with the decision to move Bob to Arizona. There he enjoyed short trips to Lake Havasu City with his daughter Vicki and her husband Greg and lived in the expert care of his daughter Nancy and her husband Gary. Bob expressed his love for Gary's constant companionship by referring to him as "The King." Bob's daughters Bonnie, Linda and Peggy often came to help take care of their daddy and Eileen was able to visit Bob twice before she passed away peacefully in her Oregon home in September, 2013.
Bob passed away at Nancy and Gary's home in Kingman, AZ on Tuesday, with them by his side, comforting him as he made the journey to find his dear friends waiting for him.
Bob is deeply missed by his daughters and their families who survive him: Nancy (Gary) Pfaff (Kingman, AZ), Vicki (Greg) Dwyer (Lake Havasu City, AZ), Bonnie (San Francisco, CA), Peggy (Sid) Smith (Hawley, MN), and Linda (LeRoy) Luchau (Fargo, N.D.).He is also survived by his Olson stepchildren: Mike (Diane), Chris (Marilyn), Kevin (Karen), Carol (Ted) Acker, and Beverly (Mark) Carlton who helped to care for Bob and Eileen when they lived adjacent in Medford.
Bob will be greeted by those who preceded him in death: his parents Bertha Jeannette Enggren Johnson Follett and Leland Carl Follett, his grandson Jeffrey Scott Dwyer, his son Steven Carl Follett, his stepmother Katherine Wheelock Bristol Follett, his first wife Virginia Agnes DeValska Follett, his sister Janice Elaine Follett Patman, and his second wife Eileen B. Kaufer Olsen Follett.
In lieu of flowers, we gratefully ask that you make contributions to organizations that Bob was passionate about during his fruitful life: United Blood Services, St. Labre Indian School and Hospice of KMHC, AZ.
Memories Timeline
Guestbook
---