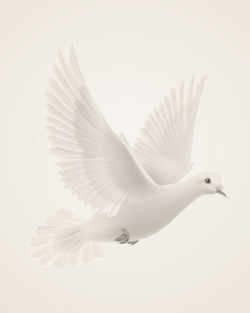 July 15, 1924 ~ October 17, 2010
Robert P. Hanish, 86, of Fargo passed away Sunday, October 17, 2010 at Bethany on 42nd. Bob Hanish was born July 15, 1924, the 8th of 9 children to Frank and Anna (Kaczmarski) Hanish on a farm south of Pettibone, ND. When Bob was age 9, the family moved to Philips, WI, where he graduated high school in 1942. At age 18, Bob enlisted in the Marine Corps and served in the South Pacific during World War II, an example of our nation's "Greatest Generation." After the war, his brother Ed encouraged him to move to Fargo, where he attended NDSU (then NDAC). Bob was an offensive lineman on the 1946 and 1947 Bison football teams. At NDSU, Bob met and fell in love with Verna Van Slyck of Walhalla, ND and they were married on June 14, 1947 at St. Mary's Cathedral, Fargo. While playing football at NDSU, Bob became friends with his teammate Sid Cichy. Bob later joined Sid's staff at Fargo Shanley and coached there until the early 1970's - a period in which Shanley football enjoyed unparalleled success including the then longest winning streak in the nation. Sid fondly called Bob, "Trapper," a fitting nickname that stuck with Bob throughout his hunting and coaching days. Bob began working at the Fargo Forum in 1951 and chose to work nights for many years to allow time to coach at Shanley. Bob was the foreman of the mail room until becoming mailroom superintendent in the early 1970's. In his job at the Forum, Bob took great pride in the efficiency of the mail room and that the newspaper always left the Forum on time. He always was interested in new technology and its application to the mechanics of the newspaper business. Bob retired from the Forum in 1989. After retirement, Bob enjoyed the hunting camp at Robinson, ND, annual fishing trips to Canada with his children and grandchildren, and spending the cold winter months in Lake Havasu City, AZ with Verna. He had a great love for the outdoors and enjoyed hunting, fishing, going for walks and gardening. He took great pride in his tomato growing prowess and was sure to have the first ripe tomato every season.
Bob was a charter member of Holy Spirit Church and a member of the Knights of Columbus, VFW and American Legion.
Bob was proud of his ties to Wisconsin. He took his family on frequent trips to visit his siblings and their families in Wisconsin and Iowa. Bob and Verna attended his high school class reunion every five years and he remained a life-long Wisconsin Badger and Green Bay Packer fan. Bob will be remembered for his quick wit and "tell it like it is" mentality. Although he was a Marine, a strict football coach and an avid hunter/fisherman, those descriptions only partially describe a man who was tenderhearted and affectionate, particularly as a grandfather and husband of 63 years. He is survived by his wife, Verna; 7 children, Charlie (Kathy), Fargo, ND, Kathy (Rod) Wallin, Princeton, MN, Sidney (Marilyn), Ladue, MO, Frank (Carole), Garfield, MN, Fred (Lori), Orlando, FL, Lynn (Kerry), Badger, IA, John (Margaret) Scarsdale, NY; 23 grandchildren; and 11 great grandchildren. He was preceded in death by his parents and all of his 5 brothers and 3 sisters, of whom he spoke often and with whom, in life, he was close. Memorials in honor of Bob may be sent to the Presentation Sisters or Hospice.
Memories Timeline
Guestbook
Sign the Guestbook, Light a Candle