Romanus "Ray" Blotsky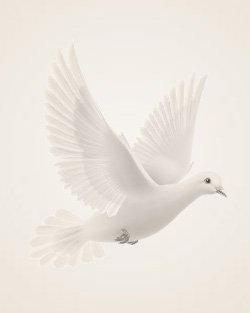 February 17, 1916 ~ December 12, 2012
Romanus Blotsky Jr. 96, Steele, ND died on December 12, 2012 at Sheyenne Crossing Care Center, West Fargo, ND. Ray Blotsky was born February 17, 1916 in Raleigh, ND, the son of Romanus Blotsky, Sr. and Bertha (Both) Blotsky. He was baptized on March 13, 1916 in St. Gertrude Catholic Church, Raleigh, ND.
In 1931 Ray joined the CCC, Civil Conservation Corps building dams, sidewalks, and roads in the mountains in Idaho. During the depression he worked for anyone who would give him a job. He signed up for the Army but was deferred as they were needed for farmers. (Soldiers on the Home Front) Ray married Agnes Winters on June 2, 1938 in Bismarck, ND. They farmed south of Raleigh until 1941, and worked on the Spicer Ranch north of Watauga, SD. They also farmed east of Shields, ND before moving outside of Shields where Ray operated a small Skelly Service Station for three years. In 1951 he moved his family to Steele, ND where he operated Ray's Skelly Station on the corner of Old Highway 10 and US Highway #3. Ray also started the Skelly Oil Bulk Service and later purchased a Soft serve-Ice Cream truck with food and called it "Chicken Delight". In 1973 his business moved to the north side of Interstate-94 and was called "The Rough-Rider Café Truck Stop" with an Indian Chief painted the on window of the restaurant Ray has always been known as "The Chief". In 1978 Ray retired from the business.
Ray always had a place in his heart for the Native American Indian. You could tell by all the Indian memorabilia he has collected over the years.
Ray signed himself into the HEARTVIEW Treatment Center in 1986 and said "I saw the light and turned my life around and have lived a different life ever since". Sobriety has been my strength for 27 years.
After Ray retired he started to exercise by riding his bike and four wheel biking around town. At the age of 70 Ray started running races in the 70 + years class in many towns and states. Ray won 20 Gold metals, 11 Silver and 9 Bronze metals plus 3 Gold in the Prairie Rose Games along with other metals and ribbons. He continued running until the doctors told him he couldn't run in completion because of health issues.
In 2007 Ray moved to West Fargo to Sheyenne Crossing Assisted Living for 1 year then moved to full nursing care.
Ray is survived by three sons, Roger (Renee) Blotsky, Phoenix, AZ; Leo (Donna) Blotsky, West Fargo, ND; Ronald Blotsky, Steele, ND. Eight grandchildren, Gregory (Lori) Blotsky, Missoula, MT; Mary (Jeff) Bock, Aberdeen, SD; Gail (Ted) Landis, Phoenix, AZ; Luke Blotsky, Phoenix, AZ; Todd Blotsky, West Fargo, ND; Teresa Blotsky, Fargo, ND: Michael Blotsky, Fargo, ND and Patricia (Chad) Janko, Bismarck, ND; 15 Great-grandchildren and 3 Great-great-grandchildren. He is survived by two sisters, Mary (Marie) Winters, Rapid City, SD and Emma Harmel of El Cajon, CA.
Ray was preceded in death by his wife, Agnes (Winters) Blotsky, an infant son, infant grandson, his parents, four brothers; Joseph, Jacob, John and Engelbert, and a step-brother Phillip Engel; three sisters, Anna Bachmeier, Veronica (Vera) Nagel, Katherine Ripplinger.
Ray was a lifetime member of St Frances DeSales Catholic Church in Steele, ND from 1949 to present.
The family would like to give a special thank you to Ronald Blotsky for all the years that he took care of Dad in Steele. Also a very special thank you to the staff at Sheyenne Crossings, they took very good care of DAD.
Memories Timeline
---