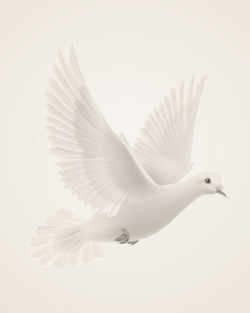 January 4, 1921 ~ November 4, 2013
Rosabell (Rosie) Van Eeckhout, 92, Fargo, died peacefully November 4, 2013, in the Respite Care Suite at Eventide Care Center in Moohead, MN, under the care of her family, the Eventide staff, and Hospice of the Red River Valley. Rosie was the youngest child of one of the original homesteading families in Plaza Township of Mountrail County, North Dakota.
Rosabell Theodora Hendricks Van Eeckhout was born January 4, 1921, to August (Gust) Hendricks and Iverine Bangen Braaflat Hendricks on her parents homestead near Plaza, ND. She attended elementary and high school in Plaza, graduating from Plaza High School in 1938. After graduating she attended business college in Minot, ND. She returned home, working for the US Postal Service, while caring for her terminally ill mother. Her mother died in 1944.
She married Robert Louis (Bob) Van Eeckhout of Wabek, ND, on November 15, 1944, at Van Hook, ND. They farmed at Plaza and Rosie's father lived with and was cared for by the couple and their children until his death in 1958. The family moved to Hamilton, Montana in 1951 and returned to the farm at Plaza in 1957. Rosie again worked for the Postal Service from 1959 to 1972 while the family continued to farm.
While her children were young, Rosie was a "room mother" for their grade school classrooms, served as a Brownie Scout Leader and Cub Scout Den Mother, and spent a considerable amount of time fund raising for their schools through parent-teacher organizations. She was baptized and confirmed at First Lutheran Church of Plaza, and became a member of the Plaza Sacred Heart Catholic Church when her children were teenagers. She was a member of the lady's aid groups of both churches. When she moved to Fargo, she became a member of the St. Anthony of Padua Catholic Parish. She held a life membership in the American Legion Auxiliary, North Dakota Unit 0119.
Rosie was diagnosed with Myasthenia Gravis in 1968 and Bob was diagnosed with Multiple Sclerosis in 1972. They continued to live on the family farm until their failing health necessitated a move to a handicapped accessible home in Plaza in 1974. Rosie continued to take care of Bob until his deteriorating condition mandated a move to a Minot care facility in 1984.
At the end of 1986, Bob and Rosie moved to Fargo, ND, to be nearer family. Bob resided at Moorhead Health Care until his death in 1988. Rosie lived with and was cared for by her family in her Fargo home until her death. The last month of her life, Hospice of the Red River Valley assisted the family with her care.
Rosie was preceded in death by her husband of 44 years, Robert (Bob) Louis Van Eeckhout; her parents, Gust and Iverine Hendricks; her parents-in-law, Louis and Anna (Rutten) Van Eeckhout; her brothers, sisters, and in-laws Theodore Braaflat, Nels and Carrie Braaflat, Oscar and Dorothy Braaflat, Harold Hendricks, Amos Hendricks, Morris and Helen Hendricks, Helma and Ed Wheeling, Catherine and Norman Sherven, Felicia and Jim Legg, George Van Eeckhout, Marie and Arnold Jacobson, Charles (Bud) and Hope Van Eeckhout, Joe and Mary Van Eeckhout, Delores (Lorry) Kramer, and several nieces and nephews.
She is survived by her son and daughter-in-law, Gene and Mary Van Eeckhout of Jamestown, ND; daughters Kathy and Irene Van Eeckhout of Fargo, ND; and grandsons Adam Van Eeckhout, New York, NY; and Alex Van Eeckhout of Fargo; brother-in-law Daryl Kramer of Minot and sister-in-law Della Van Eeckhout of Minot. She is also survived by many nieces and nephews as well as childhood friends Viola (Vi) Carrier of Fargo and Opal and Ozzie Westgard of Houston, Texas.
In lieu of floral tributes, please consider memorials to Hospice of the Red River Valley of Fargo, the North Plaza Cemetery Maintenance Fund; the Plaza, ND Ambulance Fund; or the Plaza, ND Rural Fire Department.
Memories Timeline
Sign the Guestbook, Light a Candle