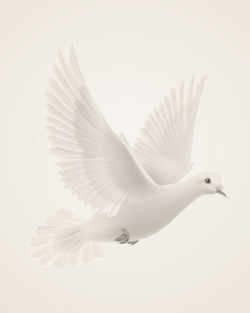 April 15, 1922 ~ October 8, 2014
Rosalie W. Anderson, aged 92, longtime citizen of Hillsboro, North Dakota, died peacefully at the Sanford Hillsboro Long Term Care center on October 7, 2014, under the gentle care of Hospice of the Red River Valley and surrounded by the love of her family.
Born in Carver Township in Minnesota on April 15, 1922, to Walter and Eleanora Brahee, Rosalie Winnifred Brahee grew up in a family of musicians: her father playing violin; her mother, guitar, mandolin, and piano; brother Roslyn, trumpet. A gifted musician herself, Rosalie learned to play piano through a correspondence course as a child and also became proficient on the accordion and baritone.
Rosalie graduated from Gustavus Adolphus College in St. Peter, Minnesota, in 1943, and always demonstrated staunch loyalty, breaking out in the "Gustie Rouser" with fervor at the mere mention of her alma mater. After graduation, she taught high school English for two years in Ellsworth, Minnesota, and later worked as a church secretary at Calvary Lutheran Church in Golden Valley, Minnesota.
Widowed in 1949, Rosalie, mother to a son, married widower Herbert Anderson, father of two daughters, on March 24, 1957, and moved from her parent's farm to Hillsboro. Together, Herb and Rosalie had two daughters to create a blended family of five children. Rosalie proved to be an enthusiastic and capable farm wife, canning and freezing the bounty of a large garden while managing a bustling household. Rosalie also became a pillar of the small farm community, developing a reputation as an outspoken firecracker, never afraid to speak her truth or show her passions.
With an unshakable Christian faith, Rosalie devoted her time, talents, and assets to a life of stewardship. She served at Our Savior's Lutheran Church in Hillsboro as an organist, officer of the WELCA, Circle leader, Sunday School teacher, youth mentor, adult education teacher, and unflagging volunteer for charity and mission work. Inspiring a strong faith in her children was at the heart of her purpose as a mother, and this foundation of devotion to God has powerful effect on the generations of her family.
A woman of strong political convictions, Rosalie was an avid supporter of the Democratic Party, often campaigning for local, state, and national candidates. Her car would be a billboard of bumper stickers for her candidates of choice during each election year.
Rosalie was an avid gardener, keeping flower beds that had something beautiful blooming from spring to the first frost. She later became fascinated by the natural habitat of the Red River Valley. In 2001, she conceived a plan to re-establish a tall grass prairie near the Woodland Park on land that had been condemned after the 1997 flood. Still in its early stages of development, Rosalie's Prairie now boasts stands of Big Bluestem, Little Bluestem, and Switchgrass, the foundation of a native prairie.
Rosalie's love of God's creation extended especially to her fondness of birds. Rosalie traveled from coast to coast and from the Hudson Bay to the Rio Grande to hone her expertise in identifying and studying birds. She was known for faithfully feeding the birds in the park throughout the winter, no matter how foul the weather. She became the "Bird Lady" in Hillsboro, an occasional contributor about her birding adventures for the Hillsboro Banner, often sought out by people for assistance in identifying an unfamiliar birds.
Her family expresses deep gratitude to the nursing and care community at Hillsboro Long Term Care center for their tender loving care. They became an extension of her family in the last years of her life.
Rosalie is preceded by her husband, Herbert A. Anderson, parents, Walter and Eleanora Brahee, brother, Roslyn Brahee, and first husband, Glenn Carnal. Rosalie is survived by her children Bonnie Joing (Bill Johansen), Stephen Carnal (Ruth), Kathleen Bohnsack (Bruce), Barbara Hultin (Glen), and Nancy Anderson; 10 grandchildren, 21 great grandchildren, and numerous nieces and nephews.
A fund has been set up at Dakota Heritage Bank in Hillsboro to support the restoration and maintenance of Rosalie's Prairie. Memorials can be made to this fund or any charity.
Memories Timeline
Guestbook
Sign the Guestbook, Light a Candle