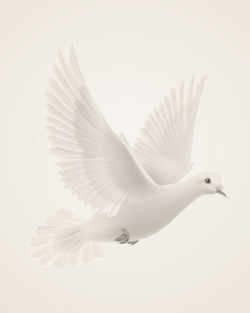 September 12, 1934 ~ February 23, 2013
Matilda (Tillie) Marie Rothlisberger, age 78, was reunited with her Lord and Savior on February 23, 2013. Tillie was born on the family farm September 12, 1934 to her parents Ben and Barbara (Wald) Lauinger in Strasburg, ND. Tillie was forced to do the usual farm chores and didn't particularly care for this. Needless to say she took the first bus out and headed to the big city of Fargo with her sister Evangeline. While working at The Times Café on Broadway she met and later married Richard Rothlisberger (Overly, ND). After their marriage they moved to Martin, ND where they owned and operated the Martin Grain Elevator. In 1966 they relocated back to Fargo. Tillie had various positions of waitressing and management at The Bison Hotel, The Black Angus Steakhouse, Jupes, and eventually retired from The American Legion.
Tillie loved flowers and was known in Martin for her huge glamorous flower gardens. Tillie also loved to decorate and paint and eventually discovered ceramics. She painted a beautiful village set surrounded by trees, streetlamps, and people. Family and friends will remember Tillie for her willingness to open up her home to just about anyone. She had several renters over the years. They always enjoyed her homemade soups, stews, and German fried noodles. Everyone appreciated her clean house with lots of sparkly crystal and white starched doilies. Holidays were a great time for visits as Tillie's house was always decorated beautifully with no space ignored. Her children will remember her most for her wonderful sense of humor, her pride and determination to keep a roof over their heads when times were tough, her ability to put up with all of the shenanigans they threw her way, and the fact that she was always beautiful.
Tillie spent her last remaining years enjoying the fresh lake air at Little Pelican Lake with Barb and Brad. She was particularly fond of the porch and loved to watch the boats go by. She always enjoyed a nice long golf cart ride to enjoy the breeze and beautiful lake sunsets.
Tillie is survived by her children Bill Rothlisberger, James (Jenny) Rothlisberger, Barbara (Brad) Olson; and Cheryl (Patrick) Schmidt; grandchildren Stephanie (Clint), Katie, Samantha, James Richard (JR), Matt and Sherilyn; great grandchildren Lucas, Eden, Ben and Austin; Sisters: Elizabeth, Virginia; brothers: Joseph, Baldwin (Grace), and Conrad (Rose). Tillie was preceded in death by her parents Ben and Barbara, her siblings, Konrad (infant) Ervin, Evangeline, and Anton, and a grandchild: Benjamin Olson.
The family would like to invite everyone to throw on their favorite hat in memory of Tillie and come join the family in a Celebration of Tillie's life. This will be held at The Boulger Funeral Home this Wednesday evening at 6:30 PM. If you want to hear stories and laughter, the family would encourage you to attend this service. There will be food and fellowship following. If unable to attend, please feel free to join the family at a Mass Service at St. Mary's Cathedral on Thursday at 2:00 PM with the burial following. There will be a rosary preceding the service at 1:30 PM. May God bless the memory of Tillie Marie Rothlisberger.
Memorials can be sent to The Alzheimer's Association ND/MN at 2631 12th Avenue South, Fargo, ND 58103.
View Tillie's online video tribute.
www.boulgerfuneralhome.com.
Memories Timeline
Guestbook
Sign the Guestbook, Light a Candle