Tony (Anton) Eckert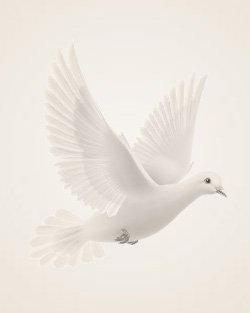 March 8, 1925 ~ November 16, 2010
Tony (Anton) Eckert, 85, Fargo passed away Tuesday, November 16 at Essentia Health, Fargo.
Tony was born March 8, 1925 to Joseph and Johanna (Wald) Eckert in Bismarck, ND. Tony grew up in the Bismarck area and attended St. Mary's School. He enlisted in the Navy in 1943. After being honorably discharged from the Navy, Tony moved back to Bismarck where he married Cecelia (Sis) Berger. He went to work for his father and brothers in the family painting business, Joe Eckert and Sons Painting/Contracting. Tony moved to Fargo in 1976, where he started a painting business with his 2 sons, Tony Eckert and Sons Painting/Decorating. He retired in 1983. He was extremely proud of the business and enjoyed working with his sons and carrying on the family tradition.
In August 1981, Tony married June (Kennedy) Eckert in Valley City, ND. They enjoyed camping, fishing, playing cards, and vacationing with friends. He enjoyed working with his hands, building things for all his children and grandchildren's homes, doing carpentry and woodworking. One of Tony's passions was spending time with his grandkids and great grandkids.
Tony was a proud member of the VFW club, the Knights of Columbus, and the American Legion. He was well liked and enjoyed being with friends and family.
Tony is survived by his loving wife June, his 6 children and her 9 children. His sons, Roger (Barb) Eckert, Fargo, ND, Bob (Candy) Eckert, Bismarck, ND; his daughters, Toni Marie (Gary) Riveland, Bismarck, ND, Debbie (Mark) Mosolf , Bismarck, ND, Carla (Rick) Rasmussen, Detroit Lakes, MN, Tracy (Mark) Geohring , Janesville, WI; her sons, Ronald Kennedy, Dallas, TX, Roger Kennedy, Fargo, ND, David (Dawn), Buffalo, WY, Neil (Judy) Kennedy, Fargo, ND, Steve (Deb) Kennedy, Fertile, MN, Paul (Christina) Kennedy, Phoenix, AZ; her daughters, Carol (Roger) Dean, Minot, ND, Susan (Jerry)Pederson, San Bernardino, CA, Jean (David) Schaefer, Crosby, MN; 21 grandchildren, 8 great grandchildren; his brothers, Joe (Billie Jean) Eckert, Bismarck, ND, Dick (Kathy) Eckert, Bismarck; his sisters, Marie Simons, Bismarck, ND, Karen (Bob) Schmidt, Bismarck, ND, Lucille (Jim) Doerfler, Arvada, CO; sister-in-law, Jeannie Eckert, Bismarck, ND.
Tony was preceded in death by his parents, brother, Casper, his brother-in-law, Dale Simons, his daughter-in-law, JoAnn Eckert, grandson, Christoper and June's son, Michael Kennedy.
Memories Timeline
Guestbook
---