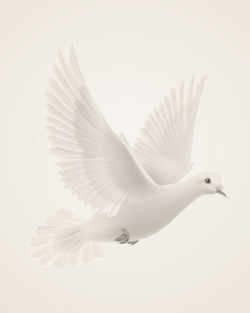 February 27, 1921 ~ December 8, 2014
"Everybody calls me Gran"
Wanda "Gran" Pfau, 93, Fargo, ND went to her heavenly home peacefully Tuesday, December 9, 2014, surrounded by her loving family, at Sanford Palliative Care.
Wanda Madge Moomaw was born February 27, 1921, in Shelby County Ill, the 5th of 6 children born to (Henry) Oliver Moomaw and Merna (Isley) Moomaw. They moved from the farm into Stewardson, Ill where Wanda began school. She recounted many stories of growing up during the Great Depression, , of eating nothing but pancakes for weeks on end, her mother giving food to hobos at the back door, how her dad was not happy that her mother stopped baking bread once they moved into town. Wanda was a feisty, spirited girl, known affectionately as "the wild child" by her sisters. She and her sister Leda won a contest for selling the most new subscriptions to a newspaper when she was 14 or 15, where the prize was a trip to Niagara Falls.
In 1937 she married Bud Cox and they had a son, Gary in 1939. In 1942, she married John Merritt and they moved to Stamps, Arkansas. During WWII, Wanda worked in a glove factory, where she was promoted to shift manager. An accomplished seamstress, she was a tailor for a time, making men's suits. Later, she went to work in a bustling restaurant/hotel in the heart of oil country. The owner sold it to her when he retired and she had it for 10 years. It was in Arkansas that she became quite a 'woods woman', squirrel hunting and river fishing with her best friend, Mary, when John traveled to work the oil fields in nearby Texas. She was known to be a very good shot, as well as the one most likely to catch the biggest fish. She and John had a daughter, Debra Jane, in 1955, who was born back home in Illinois, where Wanda stayed thereafter, selling her restaurant in Stamps, and going to work at the Greyhound Post House in Effingham, IL. Trained as a manager, she was transferred to Fargo, ND in 1961; upon hearing this, she jokingly cried, "Oh, no, I'm being deported!" Her boss, laughed, "No Wanda-Bismarck is the point of deportation!" She moved to Fargo in March 1961 with daughter Debi. Here she met Andrew Pfau, the love of her life, also at Greyhound in Fargo. They married June 14, 1962 and she welcomed four new step- children into her life: Joseph, Bernard, John and Teresa Pfau, Andy's children from a previous marriage. Before Andy's death in May 1993, they enjoyed dancing, fishing at Middle Cormorant Lake, MN, and had a well-established pinochle habit that they taught all the kids so that every family event ended up around the card table. The Post House closed, and she waitressed at the Rex Café, Moorhead, and the Hi-Ten Steakhouse, West Fargo, in the 60's & 70's until about 1973, when she retired to help step-daughter Teresa with physical rehabilitation after a tragic car accident left her permanently disabled shortly after her graduation from high school. About 1979-80, Wanda worked at JC Penney's in alternations. After a small stroke left her partially blind in one eye, she retired in 1987/88. For the past 15 years, she and Debi have had a short morning chat daily, and a regular Wednesday lunch date and afternoon of errands and appointments. She was always the honored guest at all family events and holidays, the Sun about which our family revolved. She was a strong, independent woman with a soft and generous heart who couldn't stay mad for very long, but certainly knew how stand up for herself, and could 'tell it like it is' from time to time. She taught all the grandkids many of her fishing tricks, like how to roll a worm in sand before baiting the hook, and using a wet cloth to hold onto a fish to take it off the hook. She loved Bingo, Whist, and her 'Cat', a 1994 Cadillac Deville that she drove until 2013, when she handed the keys to Debi one day, stating "I've no business driving anymore".
She and Andy bought a home in North Fargo in June 1964, where she remained until moving to a Senior Retirement Living apartment in February 2014; on Oct 24, 2014 her health declined due to complications of serious osteoporosis, and she moved to Bethany Towers II Assisted Living on South University in November, then Sanford Palliative Care on Dec 8, 2014. She is survived by children Gary Cox, Texas; Deb Sandbeck (Joe Camery), Fargo; Joe (Cecilia) Pfau, Maryland; Bernie (Gayle) Pfau, Fargo; John (Loretta) Pfau, California; Teresa Pfau, Fargo. Sister-in-law Marie Moomaw, Stewardson, Illinois; 7 Grandchildren, 5 Step-Grandchildren, 20 Great-Grandchildren, and 5 Great-Great Grandchildren and Nieces and Nephews to numerous to count. She was preceded in death by her husband Andrew Pfau; her parents; all her siblings: Regina Moomaw, Madonna Elbert, Leda Smith, Olin (Pete) Moomaw, and Lowell (Pode) Moomaw, and her beloved first grandchild, Michael Cox.
The family would like to thank the kind and caring people at Bethany and Sanford Palliative Care for helping our beloved Mother and Grandmother during her last days with us. You made a difference.
Memorials can be made to Great Plains Food Bank, 1720 3rd Ave N, Fargo, ND 58102.
Memories Timeline
Guestbook
Sign the Guestbook, Light a Candle