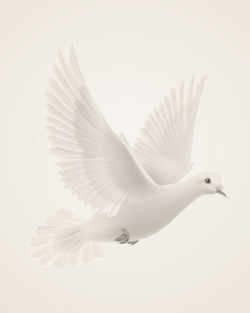 August 11, 1925 ~ June 1, 2014
Wayne H. Kelly passed away at the Sanford Palliative Care Unit in Fargo, ND on June 1, 2014 at the age of 88. He was born August 11, 1925 in Hibbing, Minnesota to Harold Quay and Delia Mary (Gravelle) Kelly. Wayne graduated from Hibbing High School in June 1943 and immediately enlisted in the U.S. Navy. He served in the South Pacific during WWII and was a combat veteran with the amphibious forces through the invasion of Okinawa.
While at Ford Island in Hawaii, he spent a full day taking physical and mental tests for the Navy Air Corps, as he wanted to become a fighter pilot. He passed the tests with high honors, but was never called up - a huge disappointment.
Wayne was honorably discharged in August 1946. Then, heattended Hibbing Junior College, studying engineering, and then transferred to the University of Minnesota, where he graduated in 1951 as a geologist after studying geological engineering. He later became a registered professional engineer in the State of Wisconsin.
Wayne went to work as a geologist with U.S. Steel Co. (He could not survey a portion of land he was assigned to using a compass on a tripod per the usual because the layer of earth below was highly magnetic and, in places, the compass would spin. Surveying was performed using a sundial.) He later went to work for his father's newly-formed construction company in Hibbing, MN. All of his work was in the iron ore mines, where he worked for ten years.
Later, a friend advised Wayne that there was an engineering position available at the U.S. Department of Interior, Bureau of Indian Affairs Regional Office in Aberdeen, SD. He worked for BIA and then transferred to Littleton, CO. While working in Littleton, the government sent him to Alaska to teach Eskimo school maintenance workers how to better maintain their school buildings. The school was on an island offshore Sitka, Alaska. Then, Wayne received a request from the U.S. Public Health Service, Division of Indian Health Regional Office in Aberdeen to work for them. He retired as a GS-14 from the government.
Retirement made him restless so he moved his family to Fargo, ND in 1981. He worked for a private contractor for several years. In 1985 he applied for a position as head of Facility Management at Merit Care Hospital/Clinic in Fargo until he had to retire at 70 years of age.
Wayne married Carol Caldwell of Hibbing, MN in 1950 with whom he had three children: Timothy, Cindy & Stephen. They later divorced. In 1970 he married Jean Anderson in Aberdeen, SD and had two more children, Matthew & Stephanie.
Wayne was a Freemason of Sunrise Lodge 211 at Aberdeen, SD and a 32nd degree Mason as a member of the Scottish Rite. He was a member of the Veterans of Foreign Wars Post 742 of Fargo and served as a volunteer worker with the Fargo Police Department. He was a member of Hope Lutheran Church in Fargo.
Wayne was preceded in death by his father and mother, Harold & Delia Kelly, his brother Harold Jr., and his son, Stephen.
He is survived by his wife Jean, four children (Timothy Kelly, Casper, WY; Cindy Prusinowski (Robert), Brooklyn Park, MN; Matthew Mac Kelly (Meghan), Wauwatosa, WI; Stephanie Kelly Siwek (Shawn), Bloomington, MN), and six grandchildren ( Jonathan Kelly, Dickinson, ND; Andrew Prusinowski, Brooklyn Park, MN; Colin & Nora Mac Kelly, Wauwatosa, WI; and Connor & Lauren Siwek, Bloomington, MN).
Memories Timeline
Sign the Guestbook, Light a Candle